Met Gala 2019 Fashion is all over the internet now. The fashion event comes with a different theme every year and this year's theme was "Camp: Notes on Fashion". The theme of Met Gala 2019 basically means  "love of the unnatural: of artifice and exaggeration" which was taken too seriously by many of the celebrities. The theme was based on Susan Sontag's essay called Notes on Camp which highlights how bad taste can often be used as a vehicle for good art, well not all of them were really good 😉
Met Gala 2019 Fashion Worst and Best Dressed Celebrities
So, in this post, I will be sharing my opinions about the best and worst dressed celebrities in Met Gala 2019 Fashion Exhibition.
Priyanka Chopra 2019 Met Gala Fashion
Being an Indian and a Priyanka Chopra fan I will first talk about her only. I personally have always loved her style sense but I don't know what was she trying to do with her look this time. In fact, the only bad thing in her look was her hairdo, rest was still okay. I think, she should have opted a better hairstyle. The dress too looked like the dusting fur though, but she pulled it off very well.
Check more of her pictures on her Instagram handle Priyanka Chopra
Lady Gaga Met Gala 2019 Fashion
This lady has commendable guts. She changed 4 looks in the gala event openly in public in the Metropolitan Museum. The lady came in a huge pink gown kinda thing, which then turned into a black dress, which again was followed by a pink outfit and finally she stripped off into her undies 🙂
Cardi B Met Gala Fashion 2019
Grammy Winner Cardi B was wearing something in deep red color, which might be termed as a gown, though, I would want to make a carpet out of her outfit. No, wait I guess I can make at least 3 carpets out of her one gown. (so-called). The dress required 10 men just to help her walk the stairs.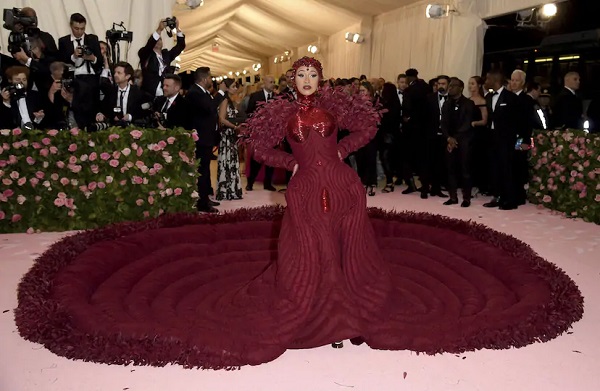 Amber Velleta MetGala 2019
Ambe Velleta is an American model and actress.
O wow, she forgot to wear her outfit.
Oh No! Wait that's her outfit.
But, this looks like a swimsuit! no bodysuit!
Oh that's still okay
But, Hey Amber, the camel toe? 
Kim Kardashian Met Gala 2019 Fashion
Kim was aiming for Californian-girl coming out of the ocean but ended up looking like any brunette who suffers a dry scalp. While Kendall almost looked like Cher in the '70s if you squint hard enough.
Feathers undoubtedly are too much in fashion these days and they look lovely indeed. The two divas with orange and purple feathers are truly slaying here. This is what we call creativity with style.
I agree that it was about experimental fashion but it should be fashion at least. Right?
Hailey Bieber MetGala Fashion
Poor Hailey Bieber probably tried to play safe with her pale pink dress on the red carpet. but unfortunately, it didn't really work at all. It was a very sad fashion vibe and a very ordinary outfit for an event like Met Gala 2019. 
Katy Pery Chandelier Look Met Gala 2019 Fashion
Then comes to our stunning diva Katy Perry who loved experimenting with fashion like Lady Gaga. She was dressed as a chandelier this time. I am wondering where did this idea come from. Apart from the chandelier part, her crystal-studded dress was actually stunning and gorgeous and yes she pulled it off great. 
Gigi Hadid Met Gala
Gigi Hadid is covered from head to toe and which what I don't know. It was something sparkly, shimmery, glittery altogether. Also feathery. But yes, honestly I liked her outfit. A bit overdone but still it was gorgeous.
Well, the list is way too longer than my blog post, will soon be uploading more on this.
Stay Tuned and do not forget to leave your views about these fashion divas.
You might want to check