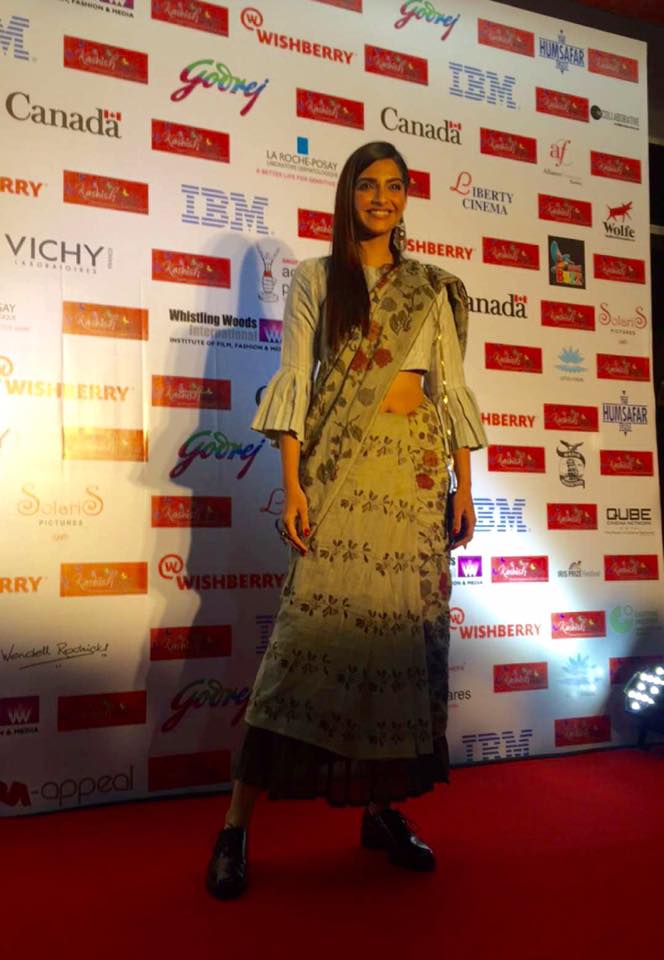 Yes, you read the title correct, Sonam Kapoor in her worst outfit ever. Sonam Kapoor is a style icon of Bollywood and is always dolled up in very unique and most stylish outfits always, but this is something awful.
Sonam Kapoor was recently seen dressed in a very dull colored saree and boots. The event was 7th Kashish Mumbai International Queer Film Festival. She is wearing the Anavila Saree just below her knees and the boots are looking really ugly with the saree. Her look is actually incomplete, she just can hold a broom (jhadu) in her hand and her look as a housemaid will be complete.
Sonam Kapoor In Her Worst Outfit
I am not a stylist, but I hate what she is wearing. I hate her saree, I hate her boots with saree, I hate the length of her saree, and the most I hate her blouse.
This is when I start believing that everything adorned by a celebrity is not a style. Yes there are many different saree draping styles getting popular that is wearing saree with jeans, wearing saree with dhoti pants or wearing a duppata with dhoti pants and wearings saree with a peplum top. These styles are different but they look lovely.
In one of recent fashion theme kitty party, I wore a saree with my jeggings and it was highly admired by everyone in our party. Sharing my picture below-
The picture is not very clear but yes my outfit is seen clearly. I wore this saree with a black jegging and a plain black top. This was a simple printed saree with minimal jewelry. I had only my danglers on my ears and was wearing no other jewelry items.
My look was highly appreciated by everyone in the party and the best part was that I was very comfortable wearing a saree with jeggings. Please note that I tied a string on my belly to fix the saree, coz jeggings are not that tight to hold a saree.