Kitty parties are all about fun and masti time with friends. Today I am sharing some kitty party invitation ideas for different kitty party themes. While the kity party fun basically depends on the games but an interesting invitation can actually make your party more happening. Instead of inviting them with simple text message, you can create some interesting invites to so as to excite the members about your kitty.
Kitty Party Invitation Ideas
Ganesh Chaturthi Invitation Idea
बडी धूम से आते गणपति, बडी धूम से जाते गणपति।

हर साल आकर सबके दिलों में बस जाते गणपति।

बप्पा की बडे प्यार से हमने सजाई है पालकी,

गणेश चतुर्थी मिलकर मनयेंगे हम सब इस साल की।
Tapori Theme Kitty Party Invitation ideas

"ए शाणे दिमाग को ज़्यादा तान नही देने का
बोले तो,
लोग, अपनी जीन जैकेट टाईट कर लेने का।
क्यों?  
बोले तो टपोरी थीम पार्टी का टाइम हैं, अभी अपुन कट टू कट बात करता है
………………तारीख को, ……………………होटल में ठीक ………बजे तुम सब पंटर लोग को हाजिरी देने का है॥
तुम लोग को वो देखने को मिलेगा जो तुम कभी नही देखेला है॥ " 
Shapes Theme Kitty Party Invitation Ideas

"Round is pancake, round is plum
Aj kitty mein milke khoob masti karenge hum.
A square is like a box, its all sides are same, 
Khelenge hum khoob saare masti bhare game. 
Triangle has three sides, it joins three dots, 
Pehenke aana stripes ya fir polka dots. 
Heart is a lovely shape we all know this, 
Mazedaar hogi yeh kitty please nahi karna miss".
Paisa hi Paisa Theme Kitty Party Invitation Ideas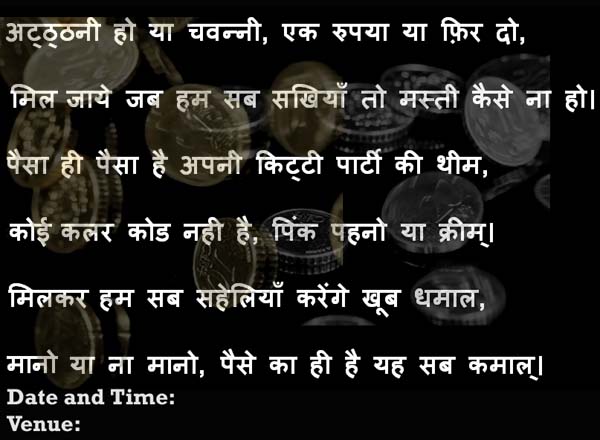 'अट्ठन्नी हो या चवन्नी, एक रुपया या फ़िर दो,
मिल जाये जब हम सब तो मस्ती कैसे ना हो।
पैसा ही पैसा है अपनी किट्टी पार्टी की थीम,
कोइ कलर कोड नही है, पिन्क पहनो या क्रीम्।
मिलकर हम सब सहेलियाँ करेंगे खूब धमाल,
मानो या ना मानो, पैसे का ही है यह सब कमाल्।'
Jewelry Theme Kitty Party Invitation
"Rubies are red and Sapphires are blue,
Here is a special invitation for all of you. 
All the fashion divas will be here, 
Please ensure your presence too". 
Monsoon Theme Kitty Party Invitation Idea

"टिप टीप बरसा पानी, पानी ने आग लगाई।
बारिश के मज़े लेने को, देखो मानसून थीम किट्टी आई।
पानी जैसा नीला रंग रखा है ड्रेस कोड,
फ़ुल औन मस्ती का होगा अपना मोड्।
भीगे भीगे गेम्स होंगे और होगा बहुत सारा फ़न्।
Absent मत होना I Promise किट्टी मे आके बहुत खुश होगा मन्।"
Spa Theme Kitty Party Invitation

"Love yourself and pamper yourself, because you are the best. 
Keep calm and come to my spa, relax and forget about the rest. 
Get dressed in comfy clothes and look smarty, 
I am inviting you all for a Spa Theme Kitty Party."
Punjabi Theme Kitty Party

इक दुनी दो ते दो दुनी चार,
खूब सारा धमाल करन लइ हो जाओ तुस्सी तैयार्।
सूट पटियाला पा के ते चोटी विच परांदी ला के,
पंजाबी किट्टी पार्टी में आना सारी मुटियार्। 
भांगडा शांगडा ते नाले बडे सारी मस्तियाँ,
ख़ुशियाँ बटोरन लइ सज धज के आ जाओ सोणी कुडियाँ।
Do let me know if you want me to design any invitation for your theme kitty party. I assure you some good and creative kitty party invitation ideas. Also, I invite you to share some of your innovative invitation ideas.