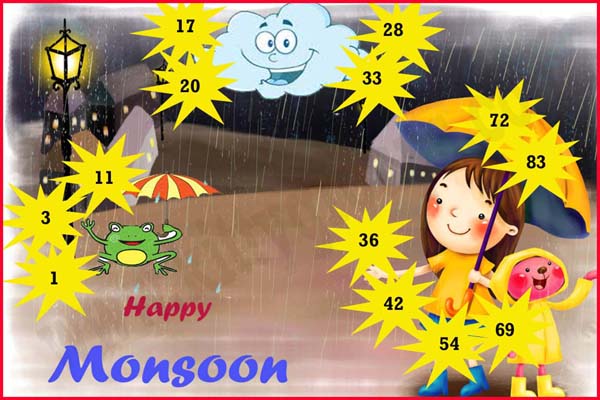 Today I am sharing a Monsoon Theme Tambola Game, designed specially on demand of a reader. She has her monsoon theme kitty party this month and wanted me to design some colorful tambola ticket. So here I am with an attractive and colorful tambola ticket for Monsoon theme party.
Monsoon Theme Tambola Game
How to play Monsoon Theme Tambola Game
Get the tambola tickets and write the numbers on yellow marks.
There are five dividends in total in this tambola game.
Monsoon is here– This is early five, and will be claimed when any five numbers in your ticket are cut.
Yellow Umbrella- When two numbers on the umbrella are cut.
Happy Cloud– when numbers around the cloud are cut.
Happy Kids – when numbers around the kids are cut.
Happy Frog– when numbers around the frog are cut.
Happy monsoon– when all numbers in the ticket are cut.
You can download and get these tickets printed at your end or can pay us to do so. We charge Rs 30 per ticket plus the shipping charges. Our prints are on good quality glaze paper which gives an attractive look to the tickets.
If you want, we can send you the soft copy of the tickets at the cost of Rs 20 per ticket.
Leave your comment below if you want to place your order.