Gone are the days when we used the play the tambola game with the regular tambola tickets and the boards. Today we have many vendors making the different theme tambola tickets and also many apps where we can generate and call out the tambola numbers. We don't really need the physical trambola board and the numbers today to play the game.
I have recently designed a few theme tambola tickets for my online live tambola game on my Facebook page. Today I am sharing some of my recently designed theme tambola tickets. 
Different Theme Tambola Tickets
Musical Tambola Game
This is the musical tambola game tickets where the dividends are pretty simple. We actually gave some musical names to the regular dividends. The only different dividend I added was the Geetmala wherein the player has to cut all the songs written on the ticket. Every ticket has 5 different songs written and I had all the songs written on paper. I was singing one song randomly after every number and when all five songs are cut you get Geetmala. We kept 5 Geetmala dividends wherein 5 members won it one by one. This tambola suits your Antakshari Kitty Party.
Geetmala- When all songs are cut
Sur- First Line
Sargam- Second Line
Taal- Third Line
1st House- Main Sureela
2nd House- Main bhi sureela
3rd House- Bathroom Singer
4th House- Main Besura.
The condition in this game was that every member who gets a dividend has to call me and sing a song to get the prize.
Cricket Theme Tambola Games
Corona has cancelled the IPL this year but our own Kitty Premier League 🙂 This was our Cricket theme tambola game for my Facebook page. The dividends of this game are all written in the ticket itself. If you have the IPL Theme Kitty Party, you can get these tambola tickets for your kitty party.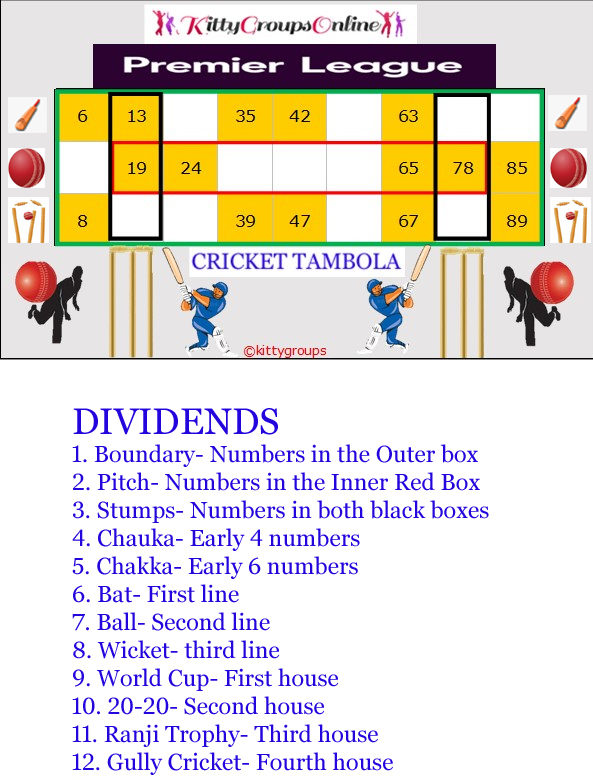 I Love My India Theme Tambola Game
Dividends of tambola
India Gate- When all numbers with India Gate picture are cut
Laal Quila- When all numbers with Laal Quila picture are cut
Tiranga- When all numbers with flag picture are cut
First Line- Kesaria
Second Line- Safed
Third Line- Hara
First House- Mera Bharat Mahan
Second House- Vande Mataram
Third House- I Love My India
This India theme tambola ticket suits your Independence Theme Kitty Party and Republic Day Theme Kitty Party. 
Sajna Hai Mujhe Theme Tambola Game
Dividends Of Tambola
Laal Bindi- When all numbers with red Bindi are cut
Neeli Bindi- When all numbers with blue Bindi are cut
Hari Bindi- When all numbers with Green Bindi are cut
Mehandi- First Line
Kangan- Second Line
Payal- Third Line
First House- Solah Singaar
Second House- Sajna Ka Pyar
Third House- Adhura Pyar
Fourth House- Tu Rehne De Yaar
This tambola game suits your Karva Chauth Theme Kitty Party. 
These are some of my own designed tambola tickets which I sell for 20 Rs per ticket. Do let me know if you want to buy any of them via comments or also let me know if you want me to design the ticket in any other theme.
Also if you want to join us for the Online Live Tambola game, please head over to my Facebook Page Kitty Groups Online.