Boat Candles race is a simple but funny Diwali kitty party game. Have you every heard that the floating candles can not just make a beautiful centerpiece for your tables or swimming pools but also can serve in the entertainment in your Diwali theme kitty party.
October is often the month of festivals in India and ladies prefer planning a Karva Chauth theme kitty party or a Diwali theme kitty party this month. What else can make a Diwali party a hit other than the interesting Diwali kitty party game?
Diwali Kitty Party Game: Floating Candles Race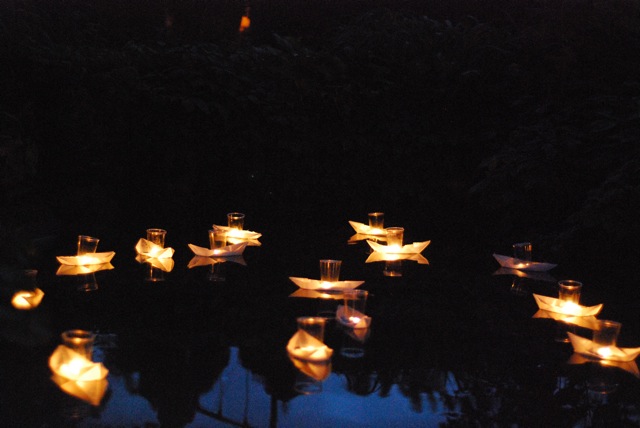 If you have your Diwali party in a pool side area, you can play it in the pool or else you can play it in a large sized tub. To play this game all you need is a big tub/pool, few floating candles and a few paper boats. If you have teams in your kitty party, call one member from each team and put the same number of boat candles in the tub. (Make the paper boats and keep the floating candle in it and float it in the water).
Give everyone a straw and their challenge is to race the candles using the straw. They have to blow the air in water through straws in such a way that the candles move. The member whose candles reaches the end point first will bag a point for her team. Being a game with candle, it suits best as a Diwali kitty party game. To make the tub more attractive, you can add a few rose petals in the water and also some milk and red colour.
I hope I am clear with my Ladies Kitty Diwali Party Game and if you have any doubt, please leave your comment in the comment box below. I am here to solve all your queries regarding all kitty party games in my website. Also feel free to share your ideas and games over here.