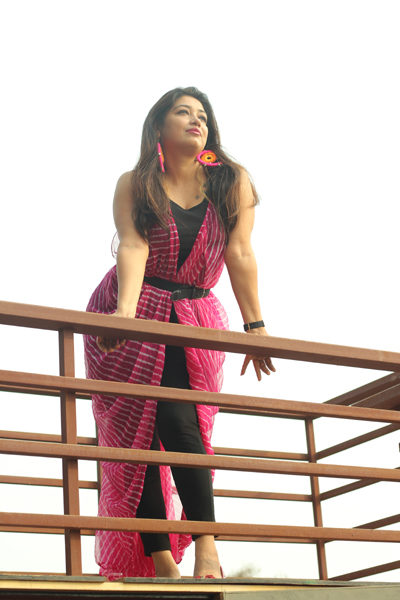 Have you ever tried to wear saree as dress? Sari has always been one of the bets, actually The Best Indian attire for women. With the changing trends and fashion, we now have started to drape a sari in many different styles. 
Wear Saree As Dress
Gone are the days when Sari was just a traditional attire to be worn with a skirt (petticoat). We now can wear our sarees with flair skirts, pants, palazzos, denim, jeggings, and what now. Today I am sharing my recently styles sari drape where I wore it as a dress over my tank top and a pair of jeggings.
Things required
A tank top to serve as a blouse
A pair of jeggings
A sari
A few safety pins
How to wear saree as a dress
To wear a saree as this dress, you should preferably choose a plane saree in some thin fabric, maybe a georgette or a chiffon saree.
Wear your tank top with the jeggings.
Now take both ends of your sari and tie the knots as shown in the image below.
Wear both ends in both of your hands, leaving the rest of your sari behind on the back.
Take the rest of your sari and make pleats.
Tuck those pleats in the back and secure it with a safety pin. You are almost done.
Adjust the front on your own preferences, you can leave them loose as a shrug or can pin them together using a safety pin.
Similarly, the back side can be adjusted to your own preferences, you can keep it lose or can pin it.
Add a waist belt to spruce up the look.
You can wear this sari dress on your jeggings or on any flared skirt.
So, this is how I wore my saree as a dress, do let me know how you like it. Will be waiting for your comments below.