No matter how many designers outfits you have, nothing can take the place of an Indian Saree. It is the most elegant, stylish, decent and beautiful outfit an Indian woman can ever adorn. However, I like the original plain style of Saree draping the most, but there are several latest styles of draping a saree so as to look differently stylish. In this post, we will talk about 10 Different Saree Draping Styles.
Latest Saree Draping Styles
1. Saree With Belts and Boots
Celebrities recently were seen wearing the sarees with belts and boots. Yes! you read it right. This is chic and stylish but you need guts to drape your saree like this and carry it with the belts and boots.  
2. Half Saree with Leggings
Have you seen actress Kalki Kochelin in a black saree paired with golden leggings? The beautiful lady recently was adorned in a Nikhil Thimpi saree which was draped till her knees and paired with golden shimmer leggings. She accesoried her outfit with golden belt and long golden danglers. While I didn't like this style much but then again, its all about being different and stylish. This is one of the Latest Saree Draping Styles. 
3. Saree with dhoti pants
This saree draping style was again revealed by the Diva Sonam Kapoor. Though, it is not really a saree but a dupatta draped around a dhoti pant but we will term as a saree only coz is draped right as an Indian saree.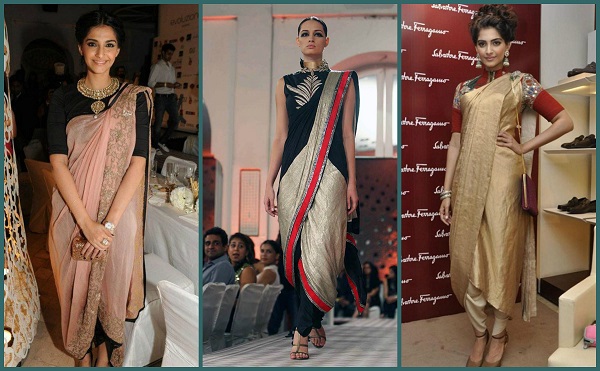 4. Saree With Leggings, Pants, Palazzos
Like it or not, you surely will look modern and chic in these differently styled saree draping. Traditionally, we drape a saree over a petticoat but the latest style trends is to drape it over other lowers including leggings, pants, and palazzos. It's daring, isn't it? This is one of the most popular and Latest Saree Draping Styles, especially loved by teenage girls. 
5. Sonam Kapoor Dhoti Style Saree Draping
This is one of the most trending Saree draping styles. The Bollywood style diva, Sonam Kapoor wore this white dhoti styled saree and made it a style statement as always. 
Check how to drape Sonam Kapoor style dhoti saree here.
6. Saree with Peplum Blouse
You can wear the Gujarati style saree with a peplum blouse to create a new style. You will certainly look chic and modern with this new style of saree draping and your saree will look like a perfect designer outfit. 
7. Saree with a Shirt
Shirts and belts are to be worn with skirts or pants, but the latest trend is to wear them with an Indian saree. Instead of wearing the old traditional blouse, you can now pair your sarees with a shirt or a jacket. You surely will be a head turner in your party with this new and latest saree draping styles. 
8. Saree with a jacket (long or short)
It is very much in trend to wear the sarees with a jacket. You can choose a long or a short jacket and trust me it looks super-stunning. Wearing a saring with a well fitted jacket or an open jacket will make you look like a runway model for sure. 
9. Saree with a different pallu style
This latest saree draping style looks wonderful and eye catchy to me. It suits best to the festive ce,ebrations, family  ceremonies or some kind of  fashion awards or trendy parties.  This is just a simply draped saree with a bit different style pallu. Heavy saree with a waist belt will make you look a style diva for sure. 
10. Stylish Sareee Draped at LFW
I don't know how to term this saree draping style. This is something showcased in the Lakme Fashion Week recently. These models are undoubtedly looking gorgeous and stunning, but somehow I didn't like the saree draping styles. Each to her own BTW. 
So these are some of the very interesting and not so interesting but different styles of saree draping. Overall, Saree draping is once again coming in trend and ladies nowadays are looking for a Place of an Indian saree to get hands on some handloom sarees and style them.