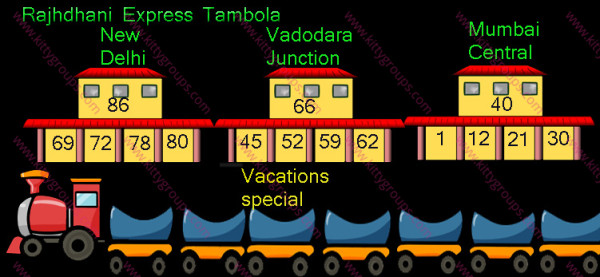 Vacations are on and ladies might be thinking of some suitable games and themes for their kitty parties. Today I am sharing a Vacations Special Tambola Game which suits best to the kitty parties in vacations. I have designed this tambola with a very simple design and vibrant colours. You just need to download the image and write the numbers and enjoy it with your friends.
Tambola Game for Ladies Kitty Parties
Things Required
Vacations special tambola game prinouts
Pens
Tambola numbers and board
How To Play Vacations Special Tambola Game
Get the coloured printouts in a thick and glossy sheet of paper.
Write fives numbers in each railway station as shown in the image.
Play with normal tambola number and board.
The dividends in this Vacations Special Tambola Game are-
I Started From Mumbai Central (When 5 numbers on Mumbai Central are cut)
The Train is at Vadodara (When 5 numbers on Vadodara are cut)
I reached Delhi (when 5 numbers on Delhi are cut)
Vacations Special Express (full house)
Download the Free Vacations Special Tambola Game for ladies kitty party Below
You can also get the printout on a simple black and white sheet but that won't make your tambola ticket look good. Do let me know via comments if you need any of my helps for your kitty party themes, games and ideas .
Happy Kittying Ladies 🙂