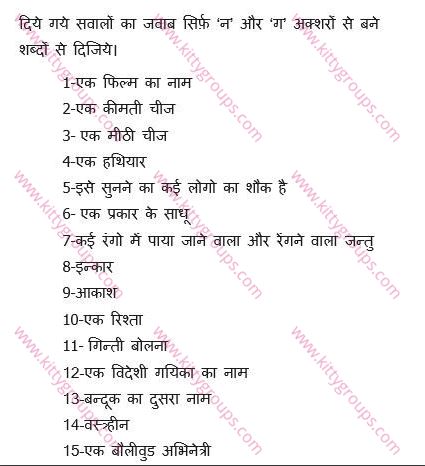 Here is yet another Hindi kitty party game for ladies. This is again a simple one minute paper party game best suitable for all age group of ladies. Ladies will get a minute to solve this riddle and win the prize.
Hindi Kitty Party Game for Ladies
Things required-
You just need the printouts of this game sheet above and a few pens for your fellow kitty members.
How to Play This Hindi Kitty Party Game
Give one sheet to every member in the kitty and explain the game.
Set the stopwatch to one minute timer and begin the game.
The lady who gives maximum correct answers in one minute will be the winner.
The only rule in this game is that the answers should contain only two Hindi letters – 'ग' & 'न'। They can use the letters as many times as they want, no boundation on'मात्रा' . They can also use the half letters like आधा न and ग.
Below are the answers for the game.
नगीना
नग
ग्न्ना
गन
गाना
नागा
नाग
ना
गगन
नानी, नाना
गिनना
गागा
गन
नग्न
नीना
Hope you enjoyed the game,
Happy Kittying 🙂