When your days turn topsy and turvy as a storm, the best idea is to plan a trip to the hills.  The Happy Dervish is one of such magnificent places to be. Situated around 50 km away from Nainital, this resort in Uttarakhand (Nathuakhan) is a serene and tranquil place to cherish.
En route to The Happy Dervish and as said, the journey was as beautiful as the destination itself.
We were 12 people and thus booked a tempo traveler from Delhi to Nathuakhan and as soon as we entered Nainital, the journey turned into a treasure to relish. It was a real treat to watch the hills covered by lush green trees and then the bare beauty too. A magical blue-green-black tickling all through the sky and hills amidst the rains was mesmerizing.
Well, it took us good 12 hours to reach The Happy Dervish from Delhi as we faced heavy rains in the way. As we reached and entered the property, nature's peace and beauty flew into me as the sunshine flows into trees.
The Happy Dervish: Tranquil Resort in Uttarakhand

This region where The Happy Dervish is located is called fruit growing bowl. The Orchards all around the property are known for producing the finest quality of plums, apples, apricots, strawberries, peaches. Very well made, this is an ideal place to spend good 3-4 days alone or with your friends and family. Being a boutique hotel, you might not get the five start luxuries here but I guess nature is at its best when untouched. The owners have designed this place very tactfully so as to keep its natural beauty intact which is way too attractive than the five-star structures.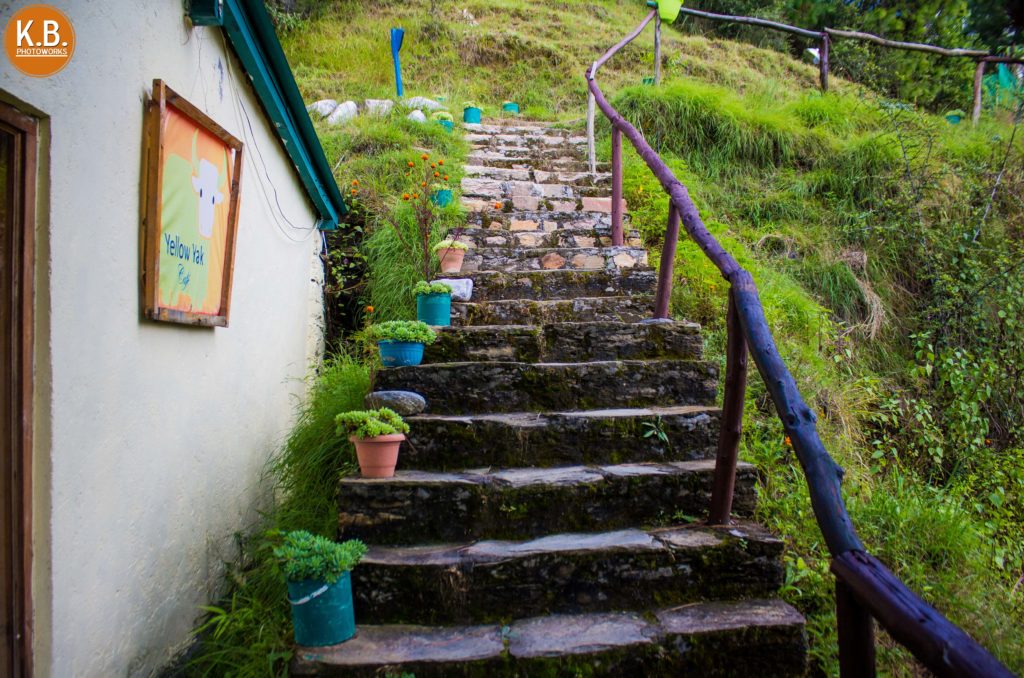 Right from the staircase to the cottages, dining hall, swings, seating arrangements everything is kept as natural as possible. The Happy Dervish has a total of 3 cottages with 12 rooms with twin sharing capacity, however, extra mattresses can always be arranged for additional charges. 
As we were tired of a long journey and it was also raining, we decided to take some rest and then meet at the Turquoise Shed which is a small place designed for the tourists to sit together under a roof and enjoy the essence of nature with your favorite drinks. Bonfire is available on demand. For dining, they have a separate dining hall named 'Yellow Yak Cafe' which is again designed very artistically. They serve you the authentic Kumauni food with the best delicacies, both vegetarian and non-vegetarian. The dining hall has a pool table, complete Karaoke set up, separate music system, and a guitar which is perfect for the recreational activities.
The Happy Dervish Dining Room
This resort in Uttarakhand is covered with lush green grass and some real herbs like Thyme, Oregano, Lavender, Geranium, Mint Leaves and Rosemary. Do not miss the green tea with fresh thyme leaves if you are here. In fruits, they have Kaafal, Plum, Peach, Pear, and Walnut. 
Flowers blooming all around the cottages and the entire resort will give an ecstatic feel for sure. Then there is a particular space designed for Yoga and Meditation. It is a turquoise hut under which you can sit, relax and meditate. 
Just posing 😛 , Yoga and Meditation Point is down there.
The Happy Dervish Yoga and Meditation Space
The Happy Dervish also has an activity area where you can enjoy playing badminton, archery, cricket, rope climbing, spider web climbing and more. Because I had no one to play with, I had to settle with the rope climbing and web climbing which I enjoyed thoroughly. But, if you are going there in a group you can have a very good time in this activity area. 
We were in a group of 12 people and thus had ultimate fun here but I found this place equally suitable for the solo travelers who want to relax in the tranquility of nature and explore themselves. It is neither wealth nor splendor its the tranquility which gives you ultimate satisfaction.
Memories made in the mountains stay in our hearts forever and The Happy Dervish indeed gave me serene and indelible memories.
Plan your trip now, with The Happy Dervish.
Image Credits: KB Photoworks