I recently got a chance to stay at the JW Marriott Mumbai Sahar and couldn't really resist sharing my review about the same. Located very near to the Sahar International Airport, this hotel is super luxurious with awe-inspiring interiors. May it be the long corridors of the hotel, the reception area, pool area, spa and sauna bath or the dining area, everything here is very tactfully and tastefully decorated and designed royally.
JW Marriott Mumbai Sahar
Located right across the Chhatrapati Shivaji International Airport, this breathtakingly gorgeous hotel is 7 km from the Powai Lake and just 5 kms from the Mahakali Caves. 
The plush rooms offer minibars, coffeemaker, DVD Player with a flat screen LED TV, free Wi-Fi and iPod docks.b However, you can't send or receive a message on WhatsApp using the WiFi (Security reasons I guess). Upgraded rooms have club rooms, private lounge, or pool views and/or balconies. The Suites have living areas whereas the upgraded suites have additional dining areas too.
Perfect ambiance, stunning lush green lawns, swimming pool and of course the lavish rooms here ensure you have all the comforts and relaxation you desire. I was lucky enough to get a room at 19th floor and the wonderful swimming pool view. The room was very spacious, very well designed and decorated, well lit and super clean. The bathroom had a big sized bathtub and all the required bathroom accessories which include clean new towels or different sizes, shampoos, mouthwash etc.
Stunning Pool and Garden Area at JW Marriott Mumbai Sahar
I started my morning by taking a good walk in the swimming pool and garden area which was very beautiful and relaxing. I sat there for a while and enjoyed the morning breeze with the wonderful view.
After sitting there for a while I went to have my breakfast which was served in the hotel buffet for all bloggers. The food didn't just look good but also tasted wonderful, especially the desserts, and I was really hungry to click the pictures and thus started eating right away. I had my favorite mushroom and cheese omelet with a good cappuccino.
Desserts at JW Marriott Mumbai Sahar

The hotel offers international and Italian restaurants, along with a bright bar/cafe, a posh lounge, and a deli.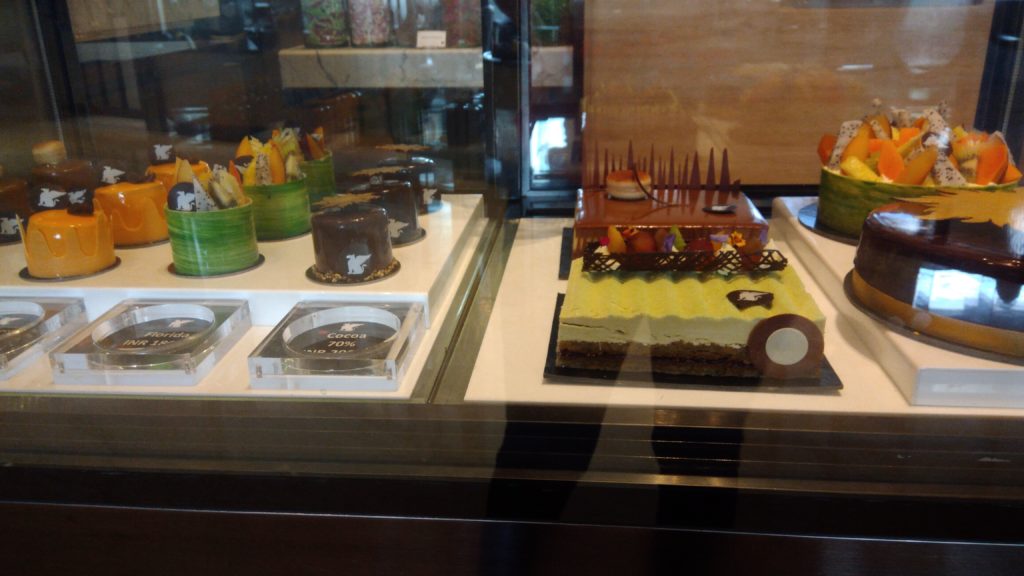 After having a good breakfast and some chit-chat with my fellow bloggers I decided to have the steam/sauna bath and Jacuzzi as there was some time for the event and sitting idle in the room and watching TV is just not me.
Spa and Jacuzzi at JW Marriott Mumbai Sahar
The SPA area of JW Marriott was totally serene with wonderful decor and interiors. Sadly I didn't have the time to enjoy the entire SPA, I decided to go with Sauna/Steam and Jacuzzi there.
The staff here was really polite and useful. They first gave me a tour of the entire SPA area and then helped me with the towel, bath gown, and costume for the Jacuzzi.
The steam and sauna rooms were very neat and clean as expected. I took some 8 minutes of steam and then 5 minutes of sauna bath as suggested by the staff there.
The Jacuzzi is always wonderful and when it is something like the one designed in JW Marriott Mumbai Sahar, how could one resist.
They have a good sized Jacuzzi which was absolutely neat and clean and lavishly designed. I took the Jacuzzi bath for around 20 minutes and I so wish, they had some arrangements for music there, it would have been ecstatic. It was anyway very relaxing and soothing.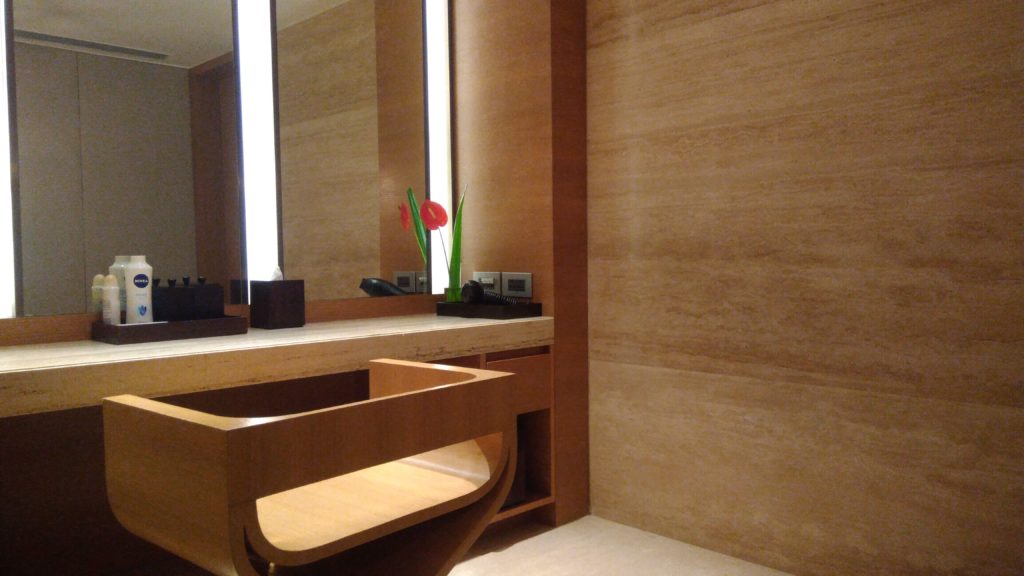 Then they have a separate grooming room for women which is a good lit room with big mirrors and the items required like the hair dryer, powders, lotions, etc. The staff at the reception helped with clicking pictures.
It was a half an hour session in all and I enjoyed every bit of it, right from the sauna bath to the grooming thing.
Good: The JW Marriott Mumbai Sahar is a wonderful and super luxurious hotel to stay. The staff here is very polite and courteous. Food is good.
Bad: They had very less female staff in the SPA area and yes I missed the music too.
Overall, JW Marriott Mumbai Sahar is one of the best luxury hotels in Mumbai and if you are looking for a sumptuous stay, mark it on the top of your list. Being very near to the airport is the cherry on the cake. I had just a one night stay at the hotel but would certainly love to stay for more days and enjoy their SPA and stunning pool.
Cya Soon JW Marriott Mumbai Sahar.