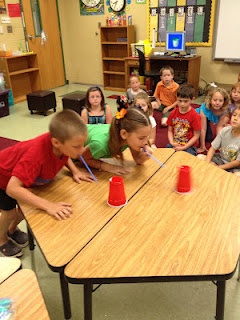 Small kids party game : It is always a trick task to entertain the small kids, because they get bored of a thing very easily and thus it becomes very important to select the right small kids party game if you have more of them in your party. Today I am sharing a party game which is pretty simple and will suit the tiny tots. This is a simple game and don't ask for much efforts too. You can keep the young children in the party, engaged for quite a long with this game.
Simple Small Kids Party Game

To arrange this game in your party, you just need some disposable glasses and many straws. Keep the glasses on a table and call 4-5 kids at a time to play this game. If you have a big party hall you can make all children play this game all together. Keep the glasses on each one's table and give them a straw each. Their challenge is to blow the glass till it falls down from the table. They have to blow the glasses through the straw pipes given to them .
Make sure that the tables you use are smooth enough to blow the glasses, or else kids will get irritated and bored. Call all kids to play this game together and the kids who blows the glass off the table first will be the winner.
This is not a minute to win it game and thus there is no time limit here. The child who comes first will win the game, simple as that. Kids love winning prizes and thus do announce some interesting prize for the game before you start with it. Nice prize will boost the kids to play the game with more zeal and enthusiasm.
Do hit the FB like button if you liked my small kids party game idea and also feel free to leave a comment below if you didn't.
Image Source : Tunstall Times