Paper party games or Fun one minute party game can make a kitty party hit. On huge demand of the members of Kitty Groups Online, I am here with a paper party game for Karva Chauth theme kitty party. I once played this paper party game in some kitty party but it was on some other theme and I have modified it a bit to make it suitable for the karva chauth theme.
Fun One Minute Party Game: Words Connect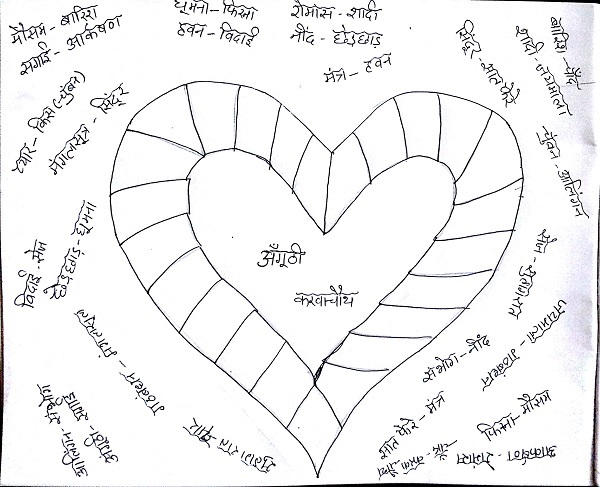 Check out the image here to know the game. You can see a heart here with some blank boxes and a word is written in the center of the heart. You can see many other words scattered around the heart. Now what you have to do is to connect these words and write them in the blanks. The game will start with the word 'Anguthi' and will end at word 'Karwa Chauth'. This is a very interesting and fun one minute party game best suitable for the Indian ladies kitty party. The best part is that it suits to all aged ladies but make sure that you explain the game properly before you start your stopwatch.
For example – Anguthi- Sagai-……. ….-Karva Chauth.
I hope the game is clear to you. If not, feel free to ask me. Leave your comment below in the comment box and I will clear your doubts.
You can keep first and second winner for this paper party game. One minute time is enough to play this game. If you have any doubt regarding this fun one minute game, download the game sheet and the answer sheet from the buttons below. And if you still have any doubts, leave a comment below in the comment box, I will get in touch with you soon.
[dl url="https://kittygroups.com/wp-content/uploads/2013/09/connect-the-words.jpg" title="Download Answer Sheet" desc="" type="" align="Game Sheet"]
In any case if you cannot download the game sheet or the answer sheet, do let me know and I will mail you the sheets seperately 🙂
Keep enjoying your kitty parties 🙂