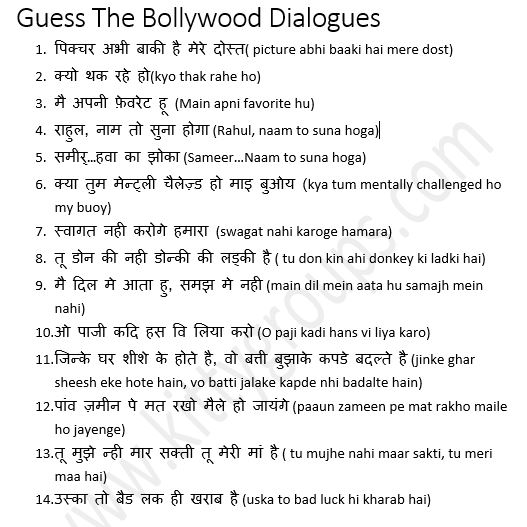 We played this one minute Hindi kitty party game in our ladies kitty party yesterday. It was a one-minute game and we got 60 seconds to complete this challenge.
One Minute Hindi Kitty Party Game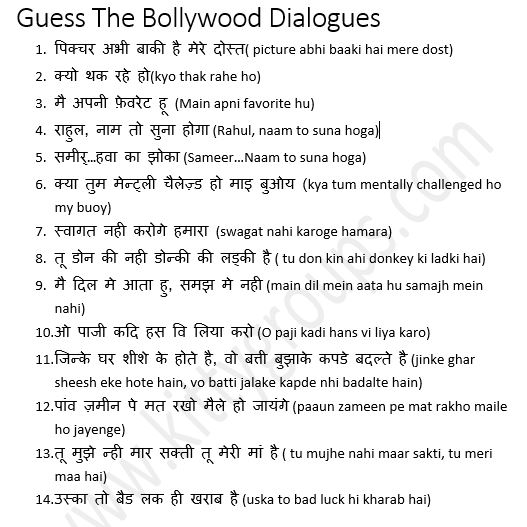 In this challenge, we had to guess the movie names for the famous Bollywood dialogues. The host gave everyone a paper with 14 famous Bollywood dialogues and we had to guess the movie names.
The dialogues and the answers were-
पिक्चर अभी बाकी है मेरे दोस्त( picture abhi baaki hai mere dost) – Ohm Shanti Ohm
क्यो थक रहे हो(kyo thak rahe ho)– Housefull 2
मै अपनी फ़ेवरेट हू (Main apni favorite hu)- Jab We Met
राहुल, नाम तो सुना होगा (Rahul, naam to suna hoga)- Dil To Pagal Hain
समीर्…हवा का झोका (Sameer…Naam to suna hoga)- Hum Dil De Chuke Sanam
क्या तुम मेन्ट्ली चैलेज़्ड हो माइ बुओय (kya tum mentally challenged ho my buoy)- Zindagi Na Milegi Dobara
स्वागत नही करोगे हमारा (swagat nahi karoge hamara)- Dabang 2
तू डोन की नही डोन्की की लड्की है ( tu don kin ahi donkey ki ladki hai)- Chennai Express
मै दिल मे आता हु, समझ मे नही (main dil mein aata hu samajh mein nahi)- Kick
ओ पाजी कदि हस वि लिया करो (O paji kadi hans vi liya karo)- Son Of Sardar
जिन्के घर शीशे के होते है, वो बत्ती बुझाके कपडे बदल्ते है (jinke ghar sheesh eke hote hain, vo batti jalake kapde nhi badalte hain)- Sauten
पांव ज़मीन पे मत रखो मैले हो जायंगे (paaun zameen pe mat rakho maile ho jayenge)- Pakeezah
तू मुझे न्ही मार सक्ती तू मेरी मां है ( tu mujhe nahi maar sakti, tu meri maa hai)- Mother India
उस्का तो बैड लक ही खराब है (uska to bad luck hi kharab hai)– Rangeela
One minute was quite a good time to guess these dialogues, but you can change the time limit accordingly. If you want you can make the game even difficult by asking the members to write the actors who said the above dialogues in the movies.