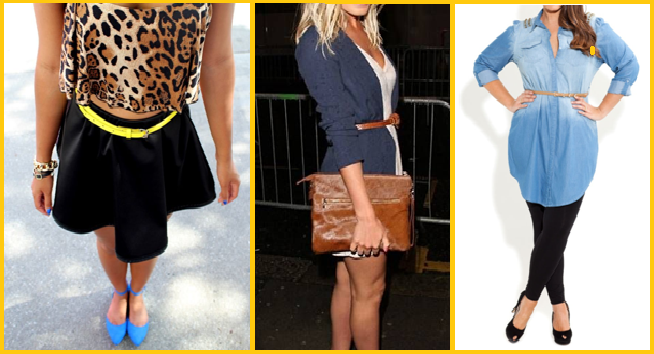 Being a Stylist, I meet a lot of women with Belt Phobia…most of them think their body type is not made for belts and this stylish piece of accessory won't be able to do justice with them.
So today I decided to solve this very real fashion dilemma. Yes, my stylish readers! Belts can indeed be your best friend. It can resolve torso bumps, change the way an outfit looks and defines your waist (even if you think you don't have one). But that being said it has to be the right belt, right fit and paired with the right body type. In this week's article I decided to talk about how to wear different belts over different bodies.
Belt fashion trends
Below are some examples of different types of belt styles and which one would work best for your body shape.
 

Curved waist belts
This is quite a friendly belt suits almost all body shapes, it sits close to the body without being too tight.  Especially benefits those who have tummies because it shapes the body without being constricting or creating that dreaded muffin top. 
This wide fashion belt is best for long torso and defined waist. These belts are very comfortable to wear and should be worn with the curve facing up.
Skinny Belt Fashion Trends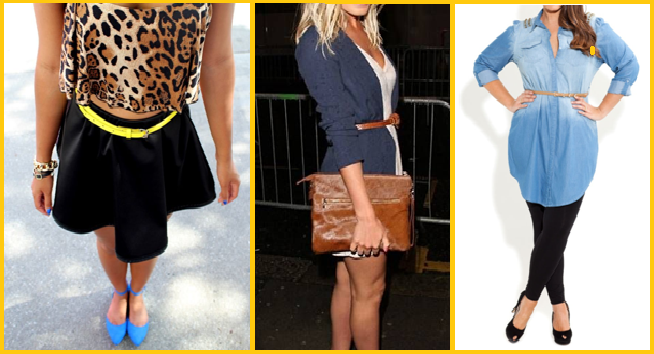 This belt is great for the pop of color in your outfit and almost all the body shapes can wear it but the catch here is the placement. Placement of this belt is very important as it can make or break the look. This tiny slim belt can show up your lumps or create a muffin top, if tightened up.
The mantra for wearing this belt (if you have a tummy) is to belt it loosely or wear it above the waist slightly below the bust, creating an empire style. Lager ladies might want to increase the width of the belt (a bit) if they feel the skinny belt would look out of proportion. This belt is best for short waists.
Hip Belt Fashion Trends 
This is a casual belt which can be worn with a host of items. Fuller females! This belt is your best friend you can go for the one which creates a V shape or is asymmetric. V shape sits over a tummy and looks flattering under a long cardigan / jacket / wrap. To lengthen and slim the look, match the belt with the color of your outfit.
Chain Belt Fashion Trends 
Chain belts serve aesthetic purpose only they don't play any role except that. All body shapes can wear a chain belt because it delicately sits around the waist not doing much more than looking pretty.
Elastic waist belt
To define your waist this belt is a perfect option.  If you are skinny flaunt it in whichever way you want. If you have a tummy be watchful and don't go for a too tight elastic, your tummy bulge can spill over creating an unflattering muffin top. But this does not mean that an elastic waist belt is off limits for you.  Just make sure it isn't too tight…:)
Adding a belt is a great way to add an accessorized finish to an outfit.  Below are some looks shown with and without a belt to let you understand how much of a difference a belt can make.
By –  Shalini Chugh (Image and Style consultant)