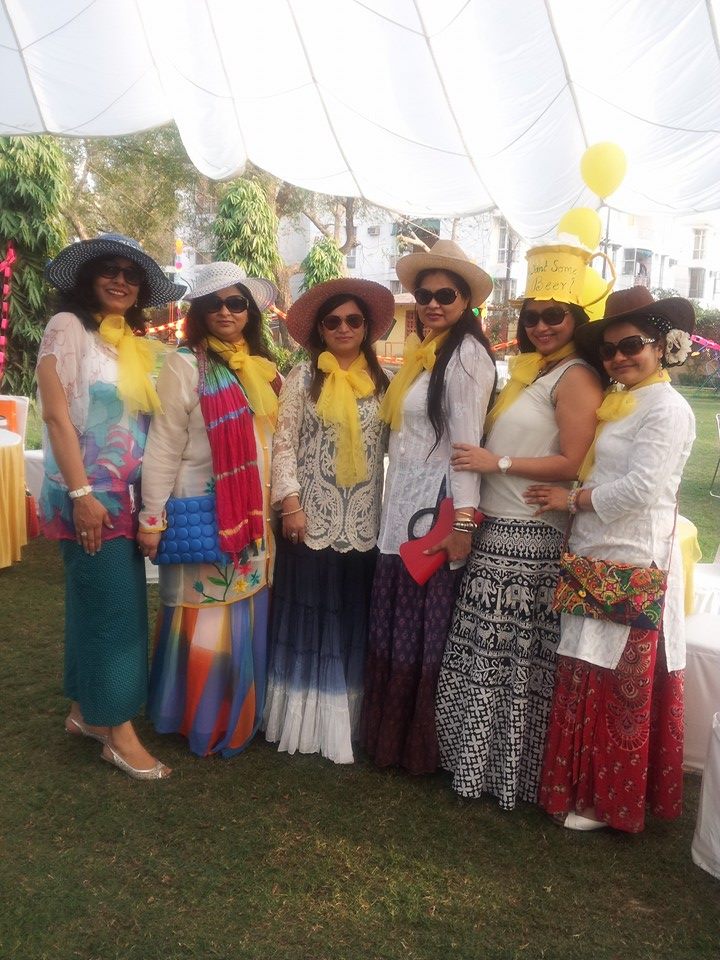 February is one of the best months of the year to have outdoor parties. It's the month when nature says, "Let's Party". We had  a wonderful outdoor party in our club with ultimate decoration, funny games, lovely dance, gifts and delicious delicacies.
Kitty Party Theme Idea For February
Decoration: It was a lovely ambience. The ground was decorated with very colourful danglers and hangings, table and chairs were adorned with lovely colorful fabric with a centerpiece of flowers, balloons, and candies.
Dress code: It was the monthly meet of our club Diva and we members were asked to wear long skirts, neon accessories and silly hats. All the gorgeous ladies were decked up in their long skirts, white top and beautiful hats.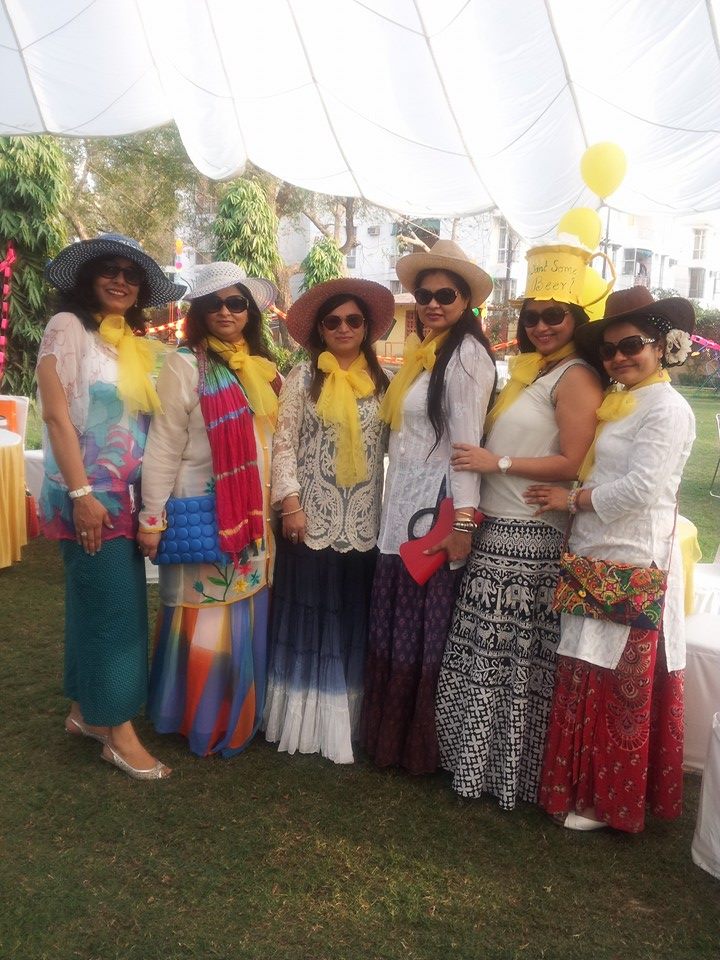 I decided to make my hat on my own as we were asked to wear the silly hats. I made a Beer Mug Hat with the handmade paper sheet in bright yellow sunshine color. 
Theme Party Games 
Antakshari: The theme party started with a fun filled antakshari. There were two rounds of antakshari, first was to sing songs using some selected words and other was to pick a random word from the previous song and sing another one.
Jigsaw Puzzle: Every team got the jigsaw puzzle pieces and the images of Hat, Water Gun (pichkari) and a Balloon. These were handmade puzzles and we had to arrange those puzzles same as the images. 
Fill the bucket: Third game was to fill the bucket with water using the waterguns. There were different colored buckets assembled in a line according to our team colors. Two members from each team were asked to stand in a circle and they were given a hat. All members were asked to shift the hat from head to head and when music stops the member with hat on her head was supposed to fill the watergun with water and pour it in their team bucket. The team whose bucket filled first was the winning team.
Hat Throw: In this game two members were called from each team, one of them was supposed to throw the hat on other member's head. Each team got five chances and one who got the hat right on the head maximum times was the winner.
Dance team dance: As the name suggests, in this game each team got a song to perform on. All songs were item numbers from the Bollywood movies. The team with the best performance was the winner of this round.
Treasure hunt: There were some things hidden in the ground, some under a tree, some in a pot etc. Every item had an alphabet written on it and we were supposed to find the things and write the alphabets on a paper. The first team to do that was the winner.
I was in Yellow team and yes, our team was the winning team with maximum points. It was a total fun-filled evening which concluded with some delicious chat items like pani puri, aaloo chat, cheela and much more.