07 Sep

Keep Kids Busy With Indoor Kids Activities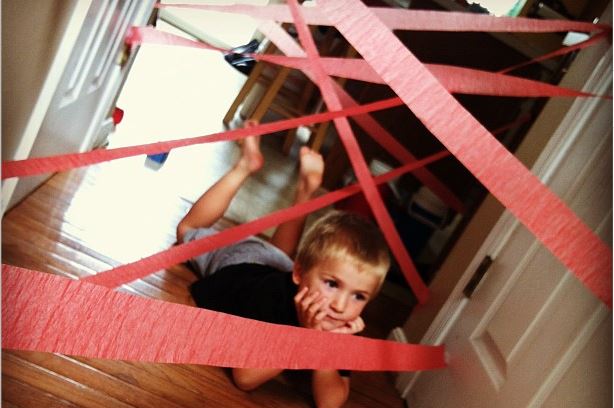 Its always hard to keep kids busy on their holidays and especially when its raining outside or its a hot afternoon. You can keep your kids busy with some interesting and fun indoor kids activities. Today I am sharing two of very interesting and funny indoor kids activities which may keep your kids busy for long. You can also keep these activities as birthday party games.
Indoor Kids Activities
Laser Beam Challenge Kids Activity
Recently while browsing over the web, I came across this idea of indoor activity for kids which can keep them busy for long. Although the picture above explains it all but let me make it a bit more explicable.
Take some paper ribbons and tape them as laser lights in your lobby or corridor, same as shown in the picture. These paper ribbons will play the role of  laser lights and the kids have to pass through these imaginary laser light without touching or breaking them. The kid who passes the entire passage will be the winner. If he/she breaks the ribbon he/she has to start once again from the starting point.
Just a few suggestions: You can also keep some small gift for the winning kid to encourage them for the activity and if you want them to be busy for long, make the laser passage longer.
Ping Pong Balloons Kids Indoor Activity
This is again one of the very simple indoor kids activities which may keep your kids busy indoors and without breaking anything. You just need two paper plates, ice-cream sticks and a balloon for this fun kids activity. Just see the image above and make two bats using the paper plates and ice cream sticks. Give them a big sized balloon and let them enjoy playing the ping pong with balloon.
I hope you liked these indoor kids activities. Do leave a comment below if you liked them and also feel free to ask me if you need any help regarding kids activities or games.