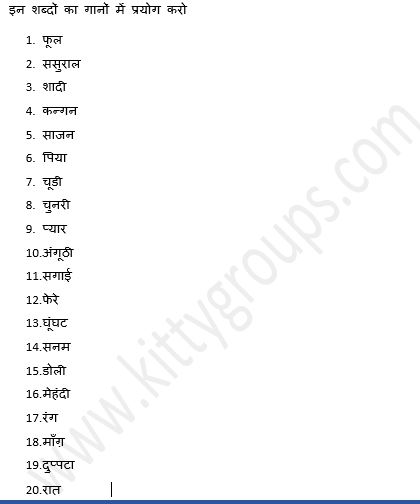 This is a simple yet interesting one-minute game kitty party. As the name suggests, you have to write the Hindi movie songs in one minute.
One Minute Game Kitty Party

Things Required-
Game sheet as shown above.
Pens
Stop watch
How To PLay
Give one sheet to each of your members.
The challenge here is to write one Hindi movie song with the given words.
The member who writes the maximum correct answers will be the winner.
Below are the answers to the One minute game kitty party. This is a nice, simple and yet interesting kitty party game for Indian ladies. You can play this game with any age group of ladies and can also play this game as an office party game with your colleagues.
Answers
फूल- फूल तुम्हे भेजा है खत में
ससुराल- मैं ससुराल नही जाउंगी
शादी- मुझसे शादी करोगी
कन्गन- चूडी मज़ा न देगीम कन्गन मज़ा न देगा
साजन- साजन साजन मेरे साजन
पिया- पिय पिय ओ पिय पिय
चूडी- चूडी नहीं मेरा दिल है
चुनरी- लाल रंग की लाल चुनरी लाई
प्यार- प्यार तूने क्या किय
अंगूठी- उंगली में अंगूठी, अंगूठी में नगीना
सगाई- आज है सगाई सुन लड्की के भाइ
फेरे- सातों फ़ेरे होन्गे अब हाथों मे लेके हाथ
घूंघट- सुहाग रात है घूंघट उठा रहा हू मै
सनम- सनम बेवफ़ा
डोली- मेंहदी लगा के रखना डोली सजा के रखना
मेहंदी- मेहदी है रच्ने वाली
रंग- मेरे रंग में रंगने वाली
माँग़- भरो माँग मेरी भरो
दुप्पटा- लाल दुप्पटा ऊड ग़या रे
रात- रात अकेली है, भुज गये दिये