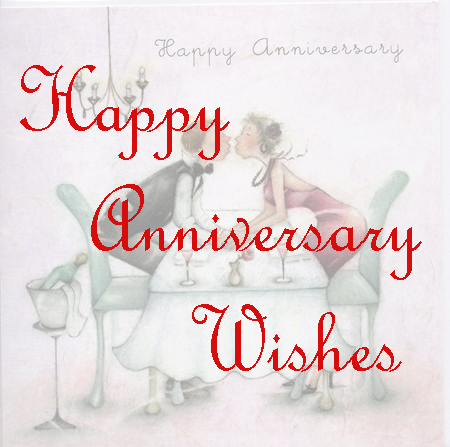 Happy Anniversary Wishes. Wedding Anniversary is a day when we celebrate the love, togetherness, and happiness. May it be our own wedding anniversary or our friend's or of any of our relative's, we always want to give them our best wishes with some beautiful messages.
Today in this post, I am sharing some wonderful and touching happy anniversary wishes for all your loved ones. You can send these anniversary wishes to your parents, your friends, your kids or any of your relatives. Do not forget to leave your comment below if you like these anniversary wishes.
Happy Anniversary Wishes
1.
It's in the way you hold each other's hands

and the way you sparkle together in the dazzling joy.

May you two continue to enjoy

for many more years to come

Happy Anniversary
2. 
An anniversary is a day to celebrate

the love which makes your marriage great.

Wishing you still more dreams come true,

More joy and more love for both of you.

Happy Anniversary
3.
Today, tomorrow and always

May all your dreams come true.

May your life be full of happy surprises

May God always bless you two.

Wishing you a very Happy Anniversary
4. 
May the sunshine of happiness

always break out through

the clouds of misunderstanding

to form a rainbow of love in

your timeless marriage.

Happy Anniversary
5.
From the day you got married

Until the day I am writing this to you,

I've always seen you loving each other,

and seen a love which is certainly true.

Be like this always you two.

Happy Anniversary
6. 
Nothing is sweeter than
After all the fights and arguments,
And hating each other's doings for some reasons, valid or not,
After disliking each other's likes
You still love each other at the end of the day.
Share the glory of love at its finest.
Happy Anniversary!
7.
Great marriages don't just happen by luck or accident,

They are the result of a consistent investment of time,

love, thoughtfulness, respect, commitment, forgiveness and care.

Stay in love always as you are.

Happy Anniversary
8. 
Once upon a time,

you became her's and she became your's

And together you stayed for years and years.

May the love keep growing for next generations.

Happy Anniversary
9.
As you celebrate another wonderful year together,

Wishing you a wonderful day and life

as beautiful as the love you two share.

Happy Anniversary.
10. 
On this special day, I wish that your love grows stronger

and blooms year by year.

May you two always live your lives

together will all love and cheer.

Happy Anniversary my dear.
So, this was my first list of best Happy Anniversary Wishes for your friends and relatives. All you need to do is to bookmark this page and copy an anniversary message from here whenever you want to wish someone.