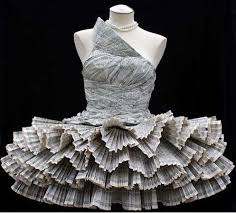 Interesting Bridal shower games . Well, when I say dress up the bride, what is the first thing that comes in your mind !! Do you think I am asking you to make a dress for the would be bride ? If yes, then you are right my dear friend.
To play this bridal shower game, all the guests in your wedding shower party will design a dress for the bride but the twist is that they will design the dress with a newspaper or a tissue paper (their choice). Yes you read it correct.
Interesting Bridal Shower Games
All the guests in the wedding shower party will make a funky wedding gown for the bride. This is not a single player games and so you have to divide your guests into teams of 4. Give them newspapers, scissors, glitter and tape. Now they have to make some dress for the bride.
The game seems to be easy but believe me girls it is not that easy to make the bridal dress with a newspaper unless you are very good at handling scissors. But if you are looking for some interesting bridal shower games this game would surely end up your search. Before you arrange this game in your bridal shower party, try making a dress yourself at home so that you can show an example to your guests or at least tell them that one can make a bridal dress using newspapers.
The team which comes up with the best dress will win this bridal shower game. To double the fun, you can get the bride dress up in the newspaper gown and click her pictures. This would be a lovely memory for the would be bride. Please hit the like button if you like this game and consider it as one of the interesting bridal shower games, also feel free to add your comments and suggestions below in  the comment box.