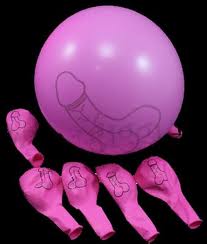 Naughty Bridal Shower Game .  Bridal shower party is all about fun and laughter and so the bridal shower games are supposed to be a bit naughty and humorous. Well this is a kind of bridal shower game I am OK with and if you are, you can arrange it in your bridal shower for sure. I guess I should categorize it as an adult party game also 'Grin'. If you are looking for a naught bridal shower game for your party, this game will suit the best to you and your guests of course. But if you buy these balloons and keep this naughty bridal shower game in your party, make sure first that your guests are comfortable playing this game or not or else you may end up with embarrassment.
Naughty Bridal Shower Games With Banana 
Well, coming back to the game. For playing this game in your bridal shower, you may need a packet of penis shaped balloons and a few bananas. You will have to divide the guests in pairs to play this game. Give every pair a balloon and a banana. One of the member holds the banana and the other one will try to put a condom on the banana with her mouth.  First team to get the condom fully on wins a prize. You can buy the inflatable penis from Amazon from the link below.

If you do not get these particular balloons, you can play this adult party game with simple balloons also but make sure that you bring small sized balloons so as to make the game a bit difficult and humorous.
Do let me know if you have any kind of confusion with this game. Leave a comment below if you liked this naughty bridal shower game. Also feel free to leave a comment below if you find any problem or issue in any of my party games and ideas mentioned in the website. Your comments and suggestions are valuable to me.