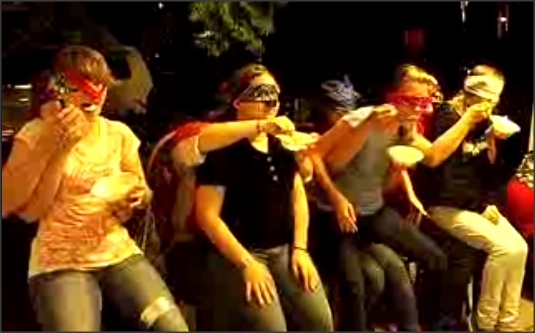 Have you ever played couple party games with ice-creams, if not here is one of them for you and your fun family parties. This can be categorized as one of the fun family couple party games as you need at least 8-10 people to play this game. This is not a one minute party game, and the results depend on first come first win.
I hope you are getting what I an trying to convey. It won't be wrong if I say that this is again one of the best party games I have ever played in any of my kitty parties.
Best Couple Party Games for Big Groups
This fun party game goes like this-
Divide all your guests or family members in couples, ask all of them to blindfold. Now make the couples sit one behind the other as you can see in the picture below. The member sitting in the front will tie his/her hands on the back, and the member sitting on the back will take a spoon and feed the member sitting ahead.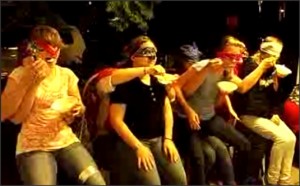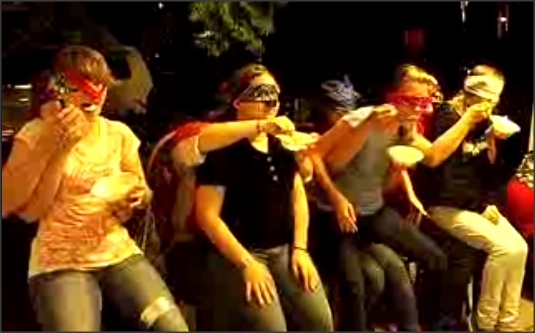 Clear! I guess the picture will make the things clearer. Keep a bowl of icecream in front of the members and the member sitting behind will feed the member sitting ahead. The couple who finishes the ice-cream first will win this couple party game.
As this is a couple party game, you can also include this game  in the list of couple party games. In fact I feel that it will bring more fun in the couple party where the wife will sit ahead and the husband will try feeding the wife with ice-cream. The special part of fun in this party games is that both of them are blindfold.
I have played this party game in my latest fun family party and trust me it was one of the best and funniest fun family couple party games.
Try this game in your next party and do not forget to tell me how was this game. Feel free to ask if you have any query regarding this game. You can leave your question or comment below in the comment box.
If you want all my games directly into your email box, just click the FOLLOW button the right bottom corner and add your email address there.