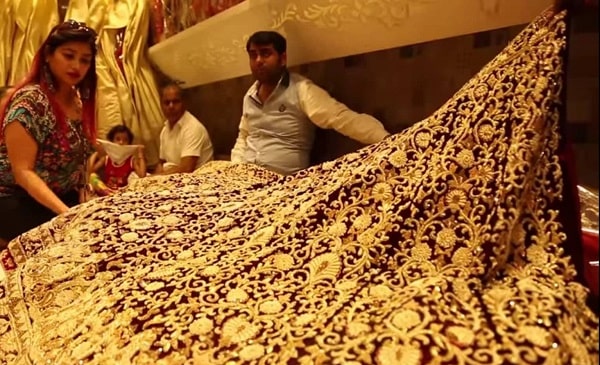 Plus Size Bridal Lehenga Chandni Chowk Delhi. I have recently been to Chandni Chowk Market in Delhi to make a video for my YouTube Channel about the wedding lehenga shopping in Delhi. I checked a few shops in Chandni Chowk market and loved the collection at Roop Singaar Collection the most. The best thing which I liked about this shop was that they customize the bridal lehenga in plus size as well.
Buy Plus Size Bridal Lehenga Here

I being a curvy woman have been facing the issues of perfect fitting and nice outfits. It is not really easy for the curvy girls to get their choice of bridal lehenga but Roop Singaar Collection at Chandni Chowk Market Delhi is the savior.
This shop has the replicas of almost every famous designer, be it Sabhyasachi, Manish Malhotra or any other celebrity designer. You can get the bridal lehenga from the range 10000-80000 here in this shop. They are experts at customizing and you just can go their and select your design and the shop owners will get you ready that design in your choice of fabric and color.
The best part about this shop is that they also offer you the plus size bridal lehenga which is one of the most common problems for the curvy girls out there.
So, if you are a curvy bride to be, do not worry you can get your favorite lehenga from this shop. Unfortunately, they are not into online shopping so you wont really be getting it online, but you have to visit Delhi and the Chandni Chowk Market Specifically to get the lehenga from Roop Singaar Collection.The Shop is at Nai Sarak in Chandni Chowk and the entire address details are mentioned in the end of this post.
This shop basically makes most of their bridal lehengas in Micro Velvet fabric which looks good but is quite light in weight as compared to the other heavy and expensive variety of velvet. So the work and design will make your lehengas very heavy but it will be quite lightweight to wear and handle. I tried a few lehengas in this shop and they were literally very light in weight to move around but looked really heavy.
You do not need to compromise with your choice because of your size.
Do watch my entire video of Chandhni ChowK Wedding Lehenga