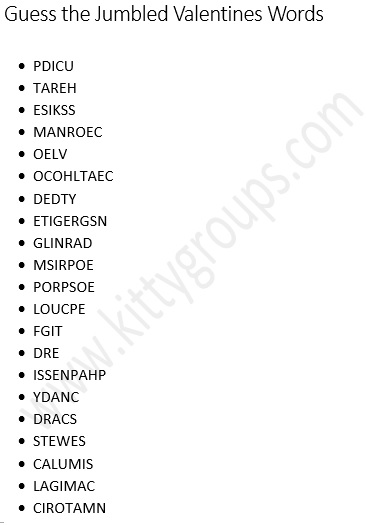 Valentines Week is already here and ladies all over the world are planning for their Valentines Day Theme Parties. This is a simple but suitable Valentines Day Kitty Party Paper Game and all you need to do is to get the game sheet printouts according to the number of members in your kitty party.
Valentines Day Kitty Party Paper Game
Things Required
How To Play
Get the game sheets printed according to your kitty party strength.
Give one sheet to each member.
The challenge here is to guess the jumbled words.
These words are related to Valentines Day.
This is a one-minute party game and the member who guesses the maximum correct answers will be the winner.
Below are the answers of the Valentines Day Kitty Party Paper Game
PDICU- CUPID
TAREH- HEART
ESIKSS- KISSES
MANROEC- ROMANCE
OELV- LOVE
OCOHLTAEC- CHOCOLATE
DEDTY- TEDDY
ETIGERGSN- GREETINGS
GLINRAD- DARLING
MSIRPOE- PROMISE
PORPSOE- PROPOSE
LOUCPE- COUPLE
FGITS- GIFTS
DRE- RED
ISSENPAHP- HAPPINESS
YDANC- CANDY
DRACS- CARDS
STEWES- SWEETS
CALUMIS- MUSICAL
LAGIMAC- MAGICAL
CIROTAMN- ROMANTIC