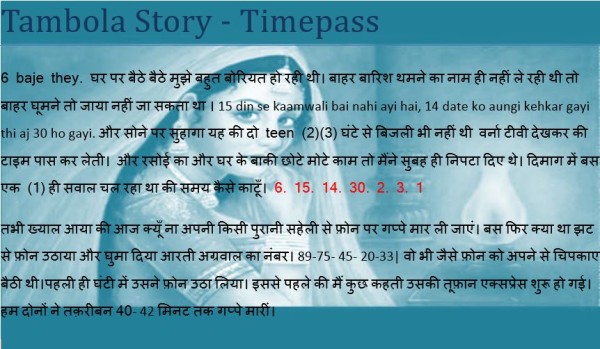 Story Tambola For Ladies Kitty Party . I have two story tambolas in my website by far and those are the most liked and admired housie ideas by my readers, so I decided to write another story tambola for you all. The name of this story is TIME-PASS. This is a short story of a lady who is getting bored and is looking for some way to spend her time.
Story Tambola For Ladies Kitty Party

I am posting a small part of the Story Tambola For Ladies Kitty Party so that you may get an idea what it is about and if you want the story to play tambola in your ladies kitty party, you can download the complete story from the download story button in the end of the post.
6 baje they. घर पर बैठे बैठे मुझे बहुत बोरियत हो रही थी। बाहर बारिश थमने का नाम ही नहीं ले रही थी तो बाहर घूमने तो जाया नहीं जा सकता था । 15 din se kaamwali bai nahi ayi hai, 14 date ko aungi kehkar gayi thi aj 30 ho gayi. और सोने पर सुहागा यह की दो teen (2)(3) घंटे से बिजली भी नहीं थी  वर्ना टीवी देखकर की टाइम पास कर लेती।  और रसोई का और घर के बाकी छोटे मोटे काम तो मैंने सुबह ही निपटा दिए थे। दिमाग में बस एक (1) ही सवाल चल रहा था की समय कैसे काटूँ। 6. 15. 14. 30. 2. 3. 1

तभी ख्याल आया की आज क्यूँ ना अपनी किसी पुरानी सहेली से फ़ोन पर गप्पे मार ली जाएं। बस फिर क्या था झट से फ़ोन उठाया और घुमा दिया आरती अग्रवाल का नंबर। 89-75- 45- 20-33| वो भी जैसे फ़ोन को अपने से चिपकाए बैठी थी।पहली ही घंटी में उसने फ़ोन उठा लिया। इससे पहले की मैं कुछ कहती उसकी तूफ़ान एक्सप्रेस शुरू हो गई। हम दोनों ने तक़रीबन 40- 42 मिनट तक गप्पे मारीं।

Aarti ka makan number 74 hai ya fir shayad 71 yaad nahi mujhey theek se. Aarti ne bataya ki pyaz 82 rs kg ho gaye hain aur tamatar bhi 66 rs kg hain. Kal tak 61-62 Rs kg tamatar aj aur costly ho gaye. Beech mein ek din toh 59 Rs bhi ho gaye the. Aarti ne ek real kundan set kharida hai jisme 63-43 red kundan aur 72-73 green kundan lage hain. Who set usne 83 thousand ka lia hai. Mainey use bataya ki mere paas bhi ek kundan set hai jo mainey 87- 88 thousand ka lia tha. Arti to jal ke koyla ho gayi hogi. Huh!! Mainey use jalane ke yeh bhi bata dia ki mere paas ek mota gold kada hai jo mainey 67- 69 thousand ka lia tha but who ab 81 thousand ka ho gaya hai aur 10 gold bangles bhi hain 77-78 grams ki . Puri tarah jal gayi aarti, aur bata apna kundan ka set. Chup ho gayi ek dum madam. चलो कम से कम 42 मिनट तो निकले किसी तरह।
I am not good at Hindi typing so wrote this Story Tambola For Ladies Kitty Party in half English and half Hindi or say in Hinglish :D. Hope you girls like it and enjoy playing this tambola.
Please hit the Facebook like button if you like the story tambola idea and also feel free to leave a comment below in  the comment box if you have any doubt about this story tambola for ladies kitty party. Download the complete story by clicking the button below.
[dl url="https://kittygroups.com/wp-content/uploads/2014/05/Tambola-Story-timepass.docx" title="Download Story" desc="" type="" align="Game Sheet"]