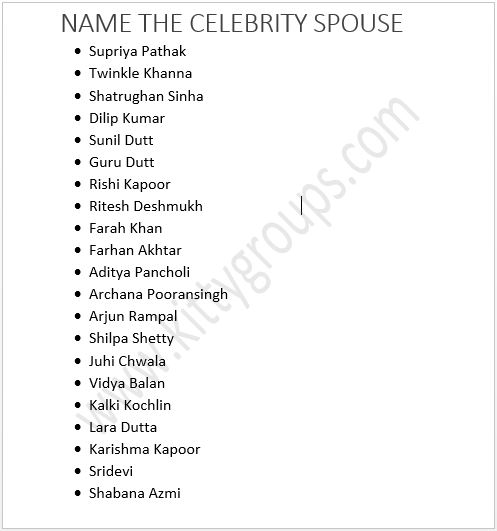 Paper Party Games For Ladies Kitty . Seeing the popularity and demand of paper party games in ladies kitty parties today I am sharing another paper party game here on my website. As the name itself suggest this paper party game calls for the names of celebrity couples in the Bollywood.
Paper Party Games For Ladies Kitty 
This is a simple game and yet you can keep the time limit accordingly. All you have to do is to get the print outs of the game sheet and distribute it among your kitty members. Give them one minute to write all the answers and the member who manage to write maximum correct answers will be the winner of the game.
You can download the game sheet and the answer sheets from the buttons below.
[dl url="https://kittygroups.com/wp-content/uploads/2014/01/name-the-celeb-spouse-paper-party-games.jpg" title="Download Game sheet" desc="" type="" align="Game Sheet"]
[dl url="https://kittygroups.com/wp-content/uploads/2014/01/answer-paper-party-game-celebrity-spouse.jpg" title="Download Answer Sheet" desc="" type="" align="Game Sheet"]