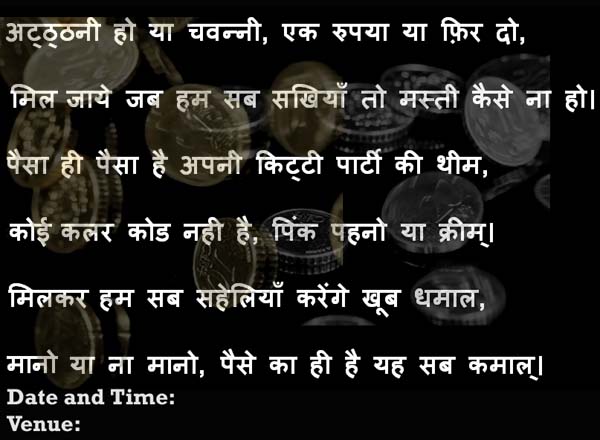 Money is something which everyone is living for so why not to include this important element of our lives into ou kitty party themes. Paisa hi Paisa is a very nice an interesting theme for your ladies kitty party as well as the couple kitty parties. Check out the Paisa Hi Paisa Theme Kitty Party Game Ideas and invitation ideas.
Paisa Hi Paisa Theme Kitty Party Game Ideas
Invitation for your paisa hi paisa theme kitty party-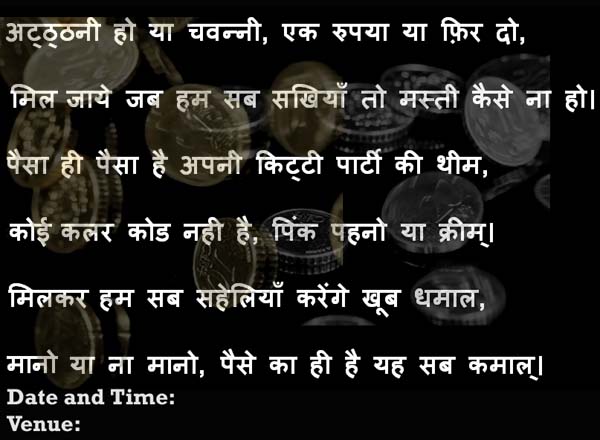 Paisa Hi Paisa Theme Kitty Party Games
Game 1: Money Tambola-
tambola is a game which is played mostly in the kitty parties and the club parties. Check out this interesting money tambola which suits this theme the best. 
download the tombola ticket here.
Money in the ice: One Minute Party Game
This is an individual game and the time limit for this game is one minute. You can call the members individually to play this game or divide your members into teams and call the members from each team to play the game. Rea more about this game HERE
Biscuit and Coins: One Minute Party Game
This is again an individual game ith great fun and laughter. You nee biscuits and coins to play this game in your kitty party Just hold the biscuit in your mouth and balance the coins over it. Rea More about this game here. 
Lucky Lay Punctuality Game
Ask everyone to take out one any currency note from their purse an count the total digits on the note. The member which highest total count.
Cards and Coins- One Minute Game
This is an interesting but simple one-minute kitty party game hence suitable for kitty party. It is to be played ith playing cards and coins. Check the details of the game HERE.
Zero Coins: Interesting Group Game
This is the game which can be played ith all your kitty members all together, furthermore you can also play it in a birthday party ith kids. Make them sit in a circle and give them 7 coins each. Now take a dice and give everyone a chance to roll the ice. The number they get on the ice ill be the number of coins they ill give to the member sitting on their next seat. The member whose coins get finished first will be the winner.
This is my list of Paisa Hi Paisa Theme Kitty Party Game Ideas,  let me know if you have any more ideas of game, leave your comments below.
Keep Kittying and Keep Enjoying.