Hi everyone, it is summers already and all we need are some good cotton outfits. It is so damn hot outside that we don't even want to go to the market and shop, so what's left is the option of online shopping. I personally love shopping online and one of my reasons is that I hate driving. So recently I bought some cotton kurta sets from Myntra and got some really good deals over there. All my kurta sets were under 900 and I bought five of them. Though, I returned one of those five sets because it didn't suit me and also I didn't like the fabric. So here in this post, I will be telling you about my Myntra Cotton Suits Under 900.
Myntra Cotton Suits Under 900
My first kurta set was a kurta and with a pair of ankle length pants. It's a very vibrant yellow color with a pretty pink print over it and it looks very pretty when worn. Though I didn't like the short back neck then again I guess it suits the design. The fabric is pure cotton and very comfortable to wear in the scorching heat.
My second kurta set is a palazzos kurta set in black color with some golden print over it. It is again a very comfortable fabric and breezy one but I didn't like its fit much. It is actually too loose from the waist area and makes me look even fatter than I am. However, I like the comfortable fabric so I am keeping it. Also, I liked its black Pallazzo pants because it stitched very well and is very comfortable to wear. I guess I will be pairing it with many of my other kurtas also.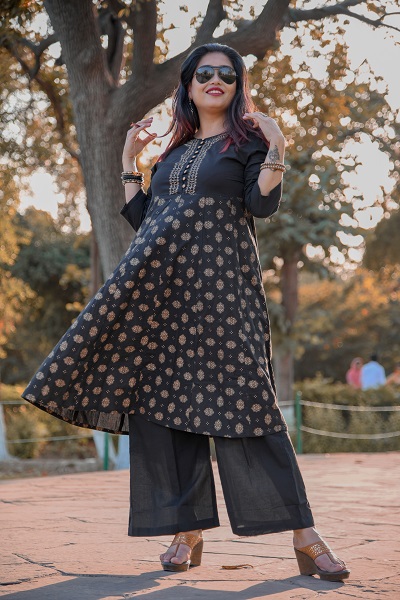 The third set is this blue palazzo set again and the palazzo is just awesome here. It is a wide ghera pallazzo pant and looks lovely on me. It is a Lizzi Bizzy fabric and not the pure cotton one but it is very comfortable to wear in the summers. Again I didn't like the fitting much but overall its a good deal at this price.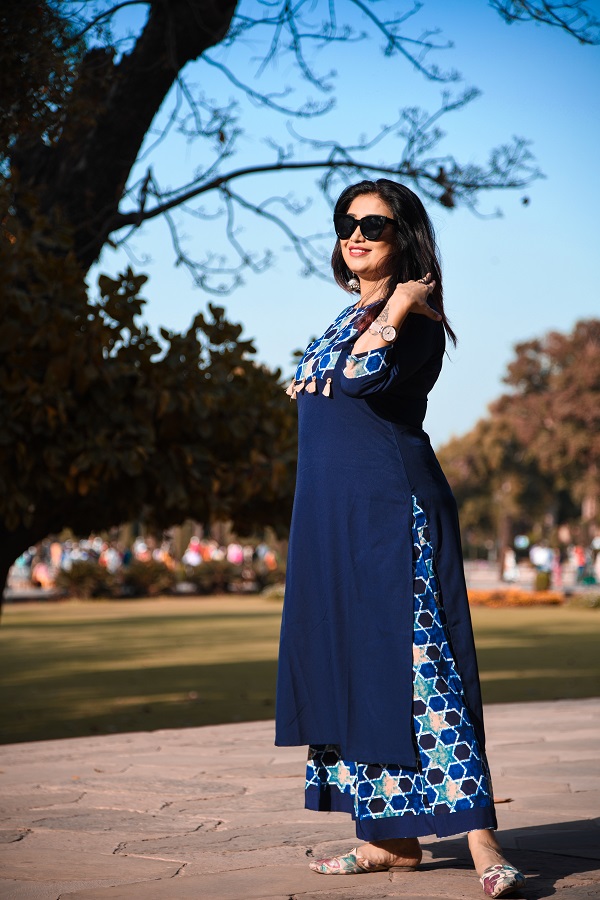 The last piece in the list of Myntra Cotton Suits Under 900 is this mustard and blue set which I liked. The kurta is in pure cotton fabric but the pants are not really the cotton ones. Its some mixed fabric which won't really very comfortable in summers as compared to the cotton ones. But I am keeping it because I liked the color combination and the fit of these pants. One more thing I liked here is that the pant has a pocket.
So I have added the links to all products below every picture and you can buy it directly from Myntra.com.
Do leave your comments below and let me know how did you like them.
Also, you can watch my Haul video on my YouTube channel to see more of these Myntra Cotton Suits Under 900.