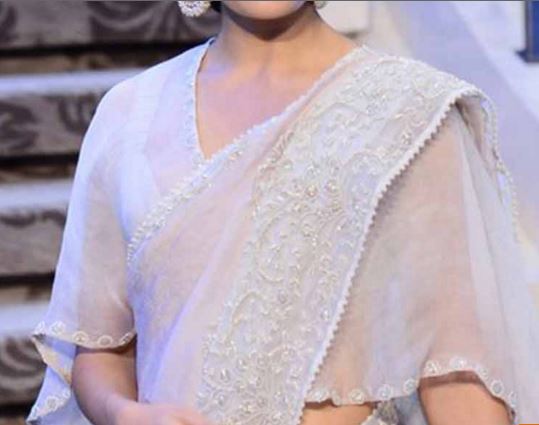 Latest Blouse Designs Wedding Season. Its wedding season in India and gorgeous India ladies might be busy getting their dresses done. Sarees are one of the best wedding attire in our country and a sari can be graced only with a wonderful blouse. If you have a designer and stylish blouse, even a simple plain sari can make your friends jealous or make your husband fall in love with you once again. Today I am sharing some of the latest blouse designs for you this wedding season. These are not my designs and I took them from the web only.
Latest Blouse Designs Wedding Season

This amazingly stylish blouse can turn your simple bordered sari into a perfect designer one. The front neckline and the back design of this blouse will certainly make you the center of attraction in your family wedding this year.
Sonam Kapoor is a style diva and copying her design is no stealing anyways. Check this picture where the gorgeous lady has paired her black crop top styled blouse with a sari. Isn' it super stunning? 
Front zipper blouse design is one of my favorite blouse designs. Just get an embroidered cloth and get a front zipper blouse done, pair it with a plain sari and there you are ready to attend your family function in style.
This one shoulder embroidered blouse is an absolute head turner, isn't it? Just get a plain sari and pair it with this super stunning designer blouse and you can make your friends jealous. 
This is something different. I saw this blouse design on Kalki Fashions and couldn't resist adding it in my list of latest blouse designs wedding season.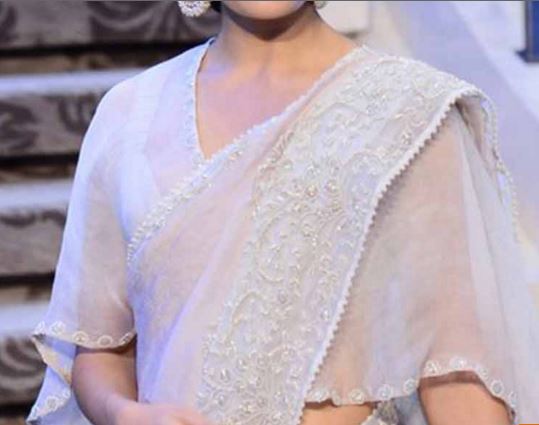 Ever tried wearing a sari on a poncho? Check this style, its super interesting and gorgeous for sure. A bordered sari with a poncho blouse can make you look no less than a Bollywood diva. This is the best of my list of latest blouse designs wedding season.