Navratri Theme Kitty Party . Navratri is starting from October 5 this year and ladies are very keen to arrange some interesting and well arranged navratri theme kitty party. I am getting many messages and mails to update some of the navratri theme kitty party games and ideas. So here I am with my idea of complete Navtri theme kitty party. Hope you like my ideas.
Navratri Theme Kitty Party  Ideas
Decoration and dresscode for Navratri Theme Kitty Party
Navratri is the most auspicious festival of India and thus you can decorate your kitty party hall with flowers, colorful dupattas, diyas, candles and rangoli. Don't forget to put a beautiful idol of Ma Durga in the center of the hall. The dresscode for this theme will obviously be a traditional Indian attire. Saree in Gujrati style or ghagra chunri will be the best dress-code for Navratri Theme Kitty Party. To make it more relevant to the theme you can also serve the navratri special food in traditional pattals and give every member a chunri. 
Games for Navratri Theme Kitty Party
If you are arrange a theme kitty party it is always best to divide your kitty members into teams. You can make 2 or 3 teams according to the strength of your kitty party.
Game #1 -Light the diyas
First game for Navratri Theme Kitty Party could be lightening of diyas as this would be the best start for such auspicious theme. Call one member from each team and give them diyas, batti, ghee and match box. This would be a one minute party game and the members have to light the maximum diyas in one minute in front of Ma Durga's idol. The member who lights the maximum number of diyas will certainly grab a point for their team.
Game #2 Making a flower garland
After lightening the diyas, then comes  the garland game. Again call one member from each team and give them flowers and needle-thread. This is again a one minute party game and the members have to make garlands for Ma Durga's idol in one minute. The garland must be long enough to get into the idol comfortably. The member who makes the maximum number of garlands will certainly grand a point.
Game #3 Make rangoli
Now comes the turn of rangoli. Bring many rangoli colors from market to play this game. Call one member form each team and ask them to make best rangoli designs in one minute. The only rule is that  they can make only the mythological figures such as kalash, diya, ganpati, ohm, swatik etc. Don't disclose these words to the players. I am giving these for the host's reference.
Game #4 Navratri Special Tambola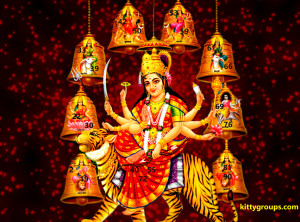 This navratri theme tambola you have the dividends with the 9 names of Ma Durga. You can write two numbers on each bell and 3 numbers on  Ma Durga's picture in the center. The members have to call out the nine names of Ma Durga when they get a dividend. You can name the full house as 'Shubh Navratri'.
Game #5 paper party game for navratri
In this paper party game for navratri I have given some meanings of Ma Durga's names and you have to guess the names. Simple isn't it! No dear it is not that simple. Check out the image below or download the game sheet and let me know how many names you can guess. You can download the game sheet below from the 'Download Game Sheet' button.
[dl url="https://kittygroups.com/wp-content/uploads/2013/09/Navratri-written-games-Guess-Ma-Durga.doc" title="Download Game Sheet" desc="" type="" align="Game Sheet"]
Game # 6 Navratri Quiz
I have prepared some 15 questions best suitable for the Navratri theme kitty party. You can set the time limit accordingly. Download the questions sheet from the download game sheet button below and get its print outs. 
[dl url="https://kittygroups.com/wp-content/uploads/2013/09/Navratri-Quiz-for-Navratri-Theme-Kitty-Party.doc"  title="Download Game Sheet" desc="" type="" align="Game Sheet"]
I know all the above mentioned games are not new but then again they suit best to your Navratri Theme Kitty Party. Do leave your comments below and they matter a lot to me
Jai Mata Di..and Happy Navratri To All My Online Kitty Members