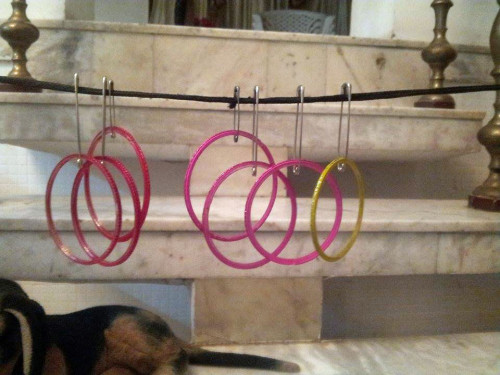 Kitty party games with bangles: Yes today I am going to share some nice, simple but interesting kitty party games with bangles. These games are best suitable for the ladies kitty parties as well as couple kitty parties. Without much ado, I will straight move on to the kitty party games with bangles.
Kitty Party Games With Bangles
For this party game you need a roller pin and many bangles. Make sure that you have many colored bangles and some red bangles. Keep all those bangles in one big bowl. This is a one minute party game and you have to call the members one by one to play this game. The member who manage to put maximum number of red bangles in the roller pin will be the winner of this game. The rule of the game is that only red bangles will be counted. To increase the difficult level of this game you can blindfold the player before she starts playing the game. This will make the game more difficult and will also increase the fun and laughter quotient in your kitty party.
Hang the Bangles
Tie a rope in one corner of the room. Give a box full of bangles and set of safety pins to the playing member. If you are having teams in your kitty, you can call one member from each team to play this game or else you can give one minute to each player to complete this challenge. Assign a particular colour to each team and the challenge is to hang the team colour bangles in the rope  using the safety pins. For example team A got green colour, they will pick only green coloured bangles from the box and hang as many bangles as they can in the rope. The team having maximum bangles will win the game. You can also play this game in your couple kitty party where the wife will pick the bangle and attach safety pin to it and the husband will go and hang it on the rope.
Bang on the Coin
Take a bucket full of water and place three different coloured bangles in it. You can also take a deep tub instead of a bucket. Now the challenge is to put the coin in the bangles. Each bangle will have different points. For example if you put the coin in green bangle you will get 10 points, if you put coin in yellow bangle you will 5 points but if you put coin in the red bangle you will get a -5 for your team.
These were my list of kitty party games with bangles. These games go well with the festive themes like Karva Chauth Theme Kitty Party, Diwali Theme Kitty Party or any other Indian Festivals.