Indian Mythology Theme Party . Indian ladies love being simple and this is a simple party theme idea for their ladies kitty party. Check out the best ideas for the Mythology Theme Kitty Party. You can also arrange a birthday party with this theme and it will bring the Indian values to our children. If you are planning to throw a mythological themed birthday party, as the children to dress up like Indian prince and princess. Give them crowns, swords, veils etc. as the props in the birthday party. 

Indian Mythology Theme Party Ideas
Invitations for Indian Mythology Theme Party
The invitations should be in the form of a scroll to give that royal ancient look of the past. The wordings can be This is a party that you cannot miss As we are organizing an ancient time tryst , Take out your ethnic attire and come join us On a fun filled ride through the lanes of Mythology mist .
Decoration and Dresscode for Indian Mythology Theme Party
Use black, golden and silver colours for decorating your party hall. You have to give a palatial look to your venue, so take out all the expensive linen that you have. Prefer a low lying seating arrangement and put a lot of cushions and bolsters. Keep the lights dim and use a lot of candles. Ask your guests to come dressed in ethnic Indian attire.
Activities and Games For Indian Mythology ThemeParty
Theme Tambola- 
Here is a special tambola game for navratri theme kitty party. I have tried to design this tambola game for your mythology kitty party with a hope that you will all like it. Please let me know if it helps.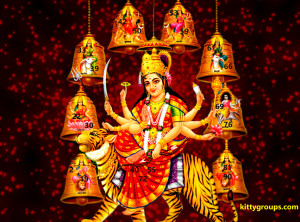 Here in this navratri theme tambola you have the dividends with the 9 names of Ma Durga. You can write two numbers on each bell and 3 numbers on  Ma Durga's picture in the center. The members have to call out the nine names of Ma Durga when they get a dividend. You can name the full house as 'Shubh Navratri
Trivia Quiz– Have a Mythology trivia quiz organized for your guests. Give away the prizes for every correct answer.
Team Games
You can divide your guests in teams and give them certain funny situations to act on like-
1. Modern Arjun and Duryodhan 2. Modern Gandhari and ancient Dhritrashtra 3. Ancient Ravan in modern Cinema hall 4. Ancient Yam raj and Modern Chitragupt
You can think of more such situations which will cause a hearty laughter, just make sure the religious sentiments are not hurt in any way . You can also divide your guests in teams and ask them to become any character/episode from the mythology and put together a performance with the rest of the members. For Example One team can choose to enact the mythological episode of Menaka and Rishi Vishwamitra .
Paper Games for Indian Mythology Theme Party
You can make the festive sudoku for this theme of kitty party. You can also ask your guests to write the names of various characters from Ramayana or Mahabharata. The guests who writes the maximum number of names, is the winner . Another idea is to create a word search puzzle with various Indian gods and goddess names.
Menu Ideas for Indian Mythology Theme Party
Have a traditional Indian menu for your Mythology theme party .
I hope you liked these ideas for Indian mythology theme kitty party. Do let me know if you have any more ideas for the kitty party theme and games. I would love to share your ideas here in my website.