This Ice-breaking games in this category actually suits best in a big group. It can be played as the office party games or as kitty party game, but make sure that your guests are enthusiastic enough to play this game.
This ice-breaker games looks easier but is not that easy to play. However, if you are arranging it as a teenage party games, it might be the best.
Teenager would play this party game will full zeal and will double the laughter quotient in the party.
Ice-Breaker Games For Big Group
Let me now tell you how the game goes. To play this game you have to divide your guests in two or more groups. Now tie the members legs with each other using a duct tape. For example, take right leg or member A and left leg of member B, then right leg of member B to the left leg of member C. Got it? Check the image below to understand better. 
Now make a few lines and boxes on the floor, as shown below-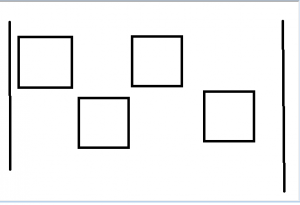 Now as the time starts Team 1 will star moving from the line to the first box, then second box, then third box and finally to the finish line. The team which manages to do so in the minimum time limit will be the winner of this ice-breaker game.