Holi is the time when we unwind, de-stress and bond with sweets, thandai and colours and when the Holi party is with friends, the joy, laughter and happiness gets doubled and trippled.
The PST at our Lions Club of Agra Sangini recently organized a wonderful Club Holi Party with friends, members, and guests at a farm house. As always our PST (President, secretary, and treasurer) together were at their bet with this party.
The entire farmhouse was decorated with colourful balloons, chairs, tables, flowers, and much more. With Holi and entertainment in their minds, our PST every sort of fun elements in the holi party. The entire ambiance was so beautiful and colourful, well suited with the theme and the festive season here in India. 
Right from the time we entered to the time we left, every moment was full of entertainment, fun and happiness. We were welcomed with the Chandan tika on our foreheads by the hosts of the party and some wonderful beats on Indian dhol. 
When all members were gathered, we started with a lovely colorful holi tambola. The tambola tickets were designed in the shape of tricolor flowers and three colors were the dividends. The tambola tickets were attached in the wrist bands to wear.
The interesting tambola game was followed by the very entertaining Khul Ja Sim Sim and Tol Mol Ke Bol games. The hosts had some very nice gifts like Iron, Toaster, Sandwich maker, Heater, Blower and much more. In Tol Mol ke Bol we the members had to guess the price of the items and those who guessed it to nearest of the actual value won the prizes. 
Similarly in Khul Ja Sim Sim, the hosts had kept some prizes under the silver colored boxes and some of the boxes were empty. Lucky members got the gifts where some unlucky ones like me got Tai Tai Fisssh. 
Similar was the game of lucky hats.  Six members were randomly called for this game and everyone got a hat. There was a number written under every hat, members were asked if they want to keep their hats or will go with the given envelopes. Some hats had prizes, some were empty, similarly some envelopes had money and some were empty. Every game was based on sheer luck and the hosts were fair enough. 
Followed by a game of eating Gol Gappas in one minute. Three members were called out on the lucky slip basis and they played the game. The one who ate the maximum number of gol gappas in one minute won a prize. 
After the games, we had some delicious Indian food items and then started the dhol and actual holi. Everyone was out in the open space of the farm house and played holi with gulal and danced on the Indian dhol beats. We had a great time and it was one the best ever holi parties I've attended.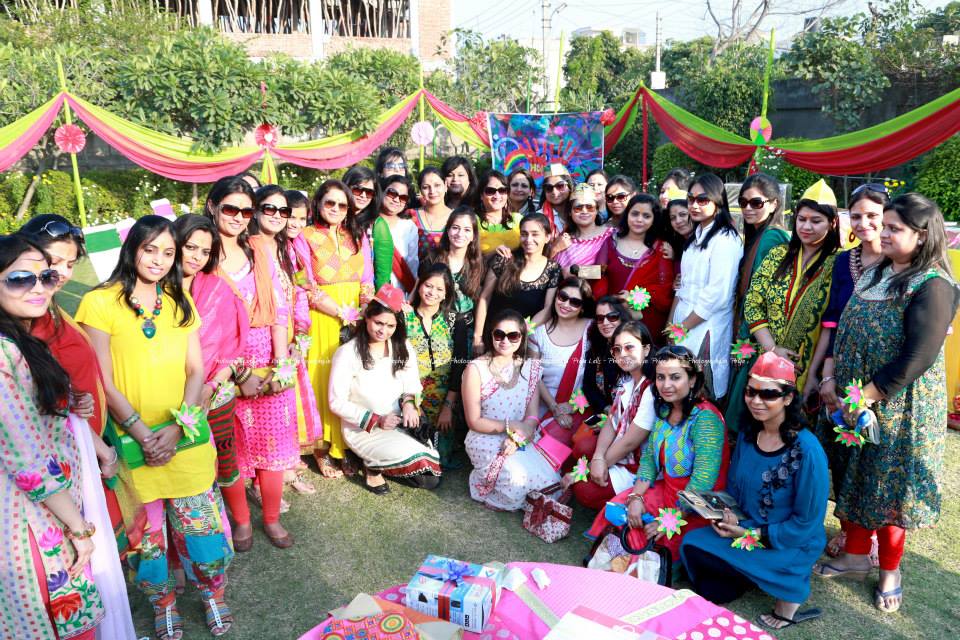 पिच्कारी की धार, गुलाल कि बौछार
यारों का प्यार, यही तो है होली का त्योहार्।