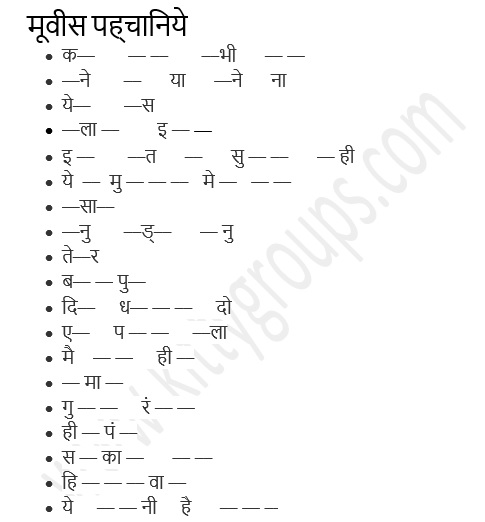 Today I am sharing a funny Hindi movies game for kitty party. We used to play this game in our childhood in the free class periods and today I find it suitable enough for the kitty parties too.
Hindi Movies Game For Kitty Party
Things Required
Print out of the game sheet shown above
Pens
How To Play
Give one game sheet to every member in your kitty party.
Explain them the game and give them one minute to complete the challenge.
This is a one minute party game where the members have to fill in the blanks and get the movies name correct.
The member who gives maximum correct answer will be the winner of this game.
Answers for the Hindi Movies Game For Kitty Party
कभी खुशी कभी गम
जाने तु या जाने ना
येस बौस
सलामे इश्क
इस रात की सुबह नही
ये है  मुम्बई   मेरी जान
मसान
तनु वेड्स मनु
तेवर
बदलापुर
दिल    धड्कने     दो
एक   पहेली   लीला
मै  तेरा    हीरो
तमाशा
गुडडू   रंग़ीला
हीरोपंती
सरकार राज
हिम्म्तवाला
ये जवानी     है      दीवानी