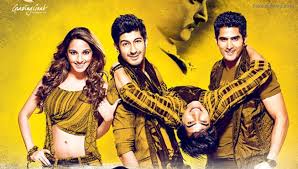 Bollywood brought three very different films- 'Fugly', 'Machhli Jal Ki Rani Hai' and 'Chal Bhaag' releasing this weekend, so what's your pick this weekend?
Fugly Movie Review
'Fugly' is the only movie to watch this week. The movie Fugly is based on the society issues like cops fascism, gay prostitution, corrupt journalism and many of such social issues. Fugly depicts the social issues in a very light manner. Jimmi Shergil is playing a negative role in the movie and the story revolves around on four carefree friends from Delhi who get into trouble with a Delhi cop.
Boxer Vijender Singh also makes his acting debut in the film Fugly', the first movie of boxing champion Vijender Singh, releaed on Friday, June 13, 2014. The film managed to cash Rs.2.95 crore of business on its opening day, making the director Kabir Sadanand happy.
Director Kabir Sadanand tweeted today "Good 1st day for @FuglyTheFilm, domestic box office collection of 2.95 cr. So guys go out there and watch the film.. fight against the Ugly". 
The movie Fugly, also stars Arfi Lamba, Jimmy Sheirgill, and two newcomers Mohit Marwah and Kiara Advani. The movie is overall an entertainer and if you want to know. 'yeh fugly fugly kya hai'..rush to the theatre near you.
Machli Jal Ki Rani Hai
Other film released this week is a horror film called 'Machhli Jal Ki Rani Hai' featuring Swara Bhaskar. The film is directed by Debaloy Dey and the story is about a young couple who encounter unnatural things in their house. You can go and watch the movie only is the same old paranormal scenes and goshtly possessions interest you. The worst part is that the 'Machli Jal Ki Rani Hai' team has already planned its sequel. It's a medium budget film and is not doing well at Box Office.
Chal Bhaag
Third film of the week is 'Chal Bhaag' which is again a low budget film. Chal Bhaag features Deepak Dobriyal, Mukesh Tiwari and Yashpal Sharma in key roles. It is a tragicomedy film and fails to generate laughter. It is a story of three small-time crooks who fall prey to bunch of cops, looking for unsuspecting victims to set up a fake encounter. The movie is a sheer waste of time and you can watch it only if you want to.