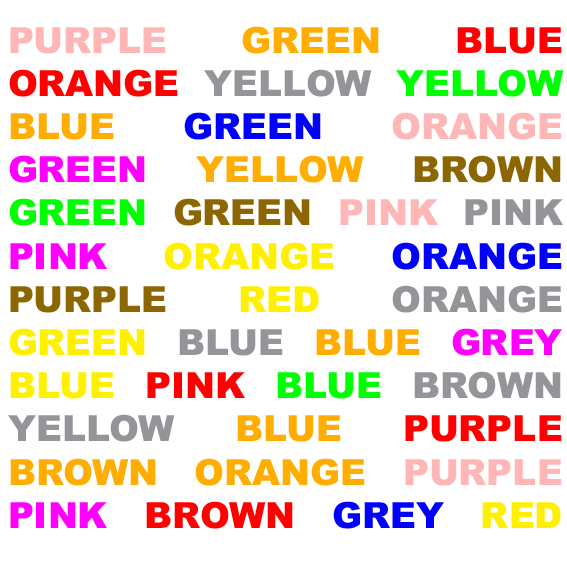 Paper Party Games .This is not exactly a paper party game or a written game for the party but it is a fun game and is played with a paper so I have put it in the paper party games category. I can also put it in my one minute party games category though. Although I have never played this game in my kitty party but have tried as my kids birthday party game and trust me it was extremely fun party game.
One Minute Paper Games For Kitty Party
Print this sheet I am attaching here. Call the member one by one on your table and give them one minute to read the colors. Not the colors name written but they have to read the colors used for writing the words.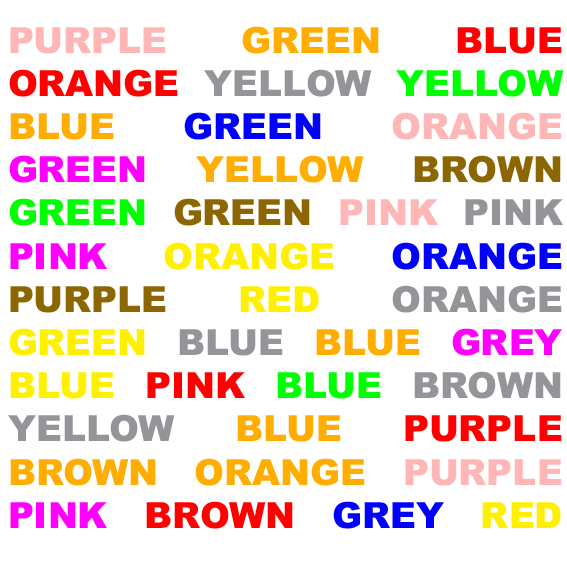 For example the first word has to be read as Pink not Purple. Second is Mustard not Green. Hope you are getting me??
The correct list of colors in the image is –
Pink
Orange
Red
Red
Grey
Green
Orange
Blue
Pink
Purple
Orange
Brown
Green
Brown
Pink
Grey
Purple
Yellow
Blue
Brown
Yellow
Grey
Yellow
Grey
Orange
Purple
Yellow
Red
Green
Grey
Grey
Orange
Red
Orange
Orange
Pink
Purple
Red
Blue
Yellow
Well, the winner will be selected with the maximum correct entries in a minute because as I said above it is a one minute paper game for kitty party.
Player giving maximum right answers in one minute will win this game.