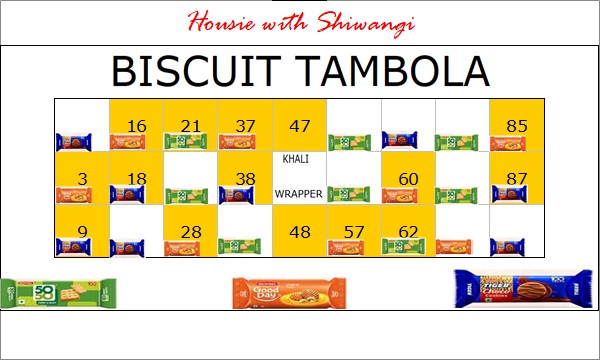 Chai-Biscuit Tambola Game. Tambola is one of the most important parts of our kitty parties and I guess no kitty party goes complete without a tombola game. Gone are the days when we used to play the regular tombola games with regular dividends. These days there are many designer tambola tickets available in the market for sale in different themes and ideas. You can get the theme tambola tickets as per your theme for your kitty party.
Today in this post, I will tell you about my new Tambola ticket that is Chai Biscuit tambola game.
Chai-Biscuit Tambola Game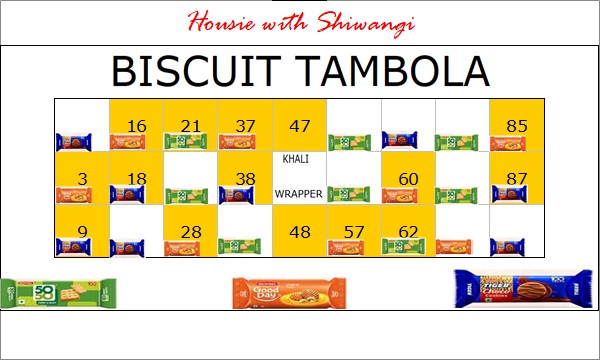 As you can see in the image above, this is a different ticket which I designed on my computer. You can design it too or can download the plain ticket image below without the numbers and get the printouts for your kitty party.
We will play this tambola with the normal tambola board and numbers but the dividends are pretty different.
DIVIDENDS OF CHAI BISCUIT TAMBOLA
GOOD DAY- When all the numbers with the pictures of Good Day are cut.
2. TIGER- When all the numbers with the picture of TIGER BISCUIT are cut
3. FIFTY FIFTY- When all the numbers with a picture of Fifty Fifty biscuit are cut.
4. KHALI WRAPPER- When the numbers in the KHALI WRAPPER column are cut.
5. TEA (CHAI)- When your first line and Khali Wrapper are cut
6. CUP-  When first and last horizontal lines and first vertical line is cut
7. SAUCER- When first and last vertical lines and last horizontal line is cut.
8. HOUSE- When all the numbers in your tickets are cut.
This is a very simple tambola with some interesting and new type of dividends. I am posting a ticket without the numbers below and you can get save the image and get the printouts as per the number of members in your kitty party. Then you can write the numbers on your own or ask the members to do so.
I hope you liked this new Chai Biscuit Tambola Game Design. Do let me know via the comments.
Love Love. Do watch my kitty party game videos on my Youtube channel Kitty Groups Online.