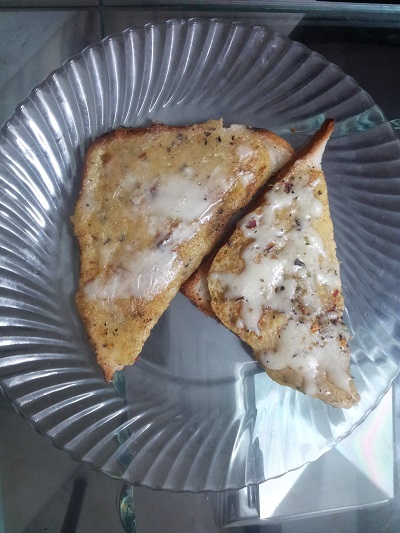 After my successful experiment of Bread Chocolate Pudding, today I tried to make a Bread Besan Toast. It took just 5 minutes to make this toast and was very light, crispy and yummy. The best part was that my husband and kids liked it very much. It is one of the easiest and tasty evening snack item.
Recipe of Bread Besan Toast 
Ingredients
Bread (Brown or White)- 4 Slices
Curd- 2 tsp
Beasn- 1 tbsp
Semolina (suji)- 1 tbsp
Origano-to taste
Red chilly flakes- to taste
Salt- to taste
Mozerella Cheese- to taste
Butter to make toast
Recipe of Bread Besan Toast
Take Yogurt in a bowl and mix everything except cheese and butter.
Cut the bread slice to half diagonally.
Spread the curd mix on the bread and add the grated cheese according to your taste
Take a non-stick pan and add butter
Roast the toast upside down for two minutes.
Serve with green chutney or tomato ketchup.
Please Note that your curd is not watery. If so, hang it in a cloth first.
What I liked the most about this recipe of bread beasn toast was that I didn't need any special ingredients to make this. I used all the common ingredietnts which are normally available in our kitchen. You can also make this toast as a starter in your kitty party at home.
Do try this recipe of this tasty evening snack item at home and do let me know your kids liked it or not.