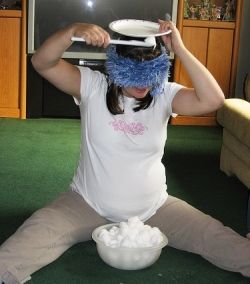 Kitty Party Games With Cotton . We have played many games with cotton balls sometimes in ladies kitty party and sometime in birthday parties. Today I am sharing a blindfold game to be played with cotton balls, this is a simple yet interesting game and you can play it in both kitty parties as well as birthday parties.
Kitty Party Games With Cotton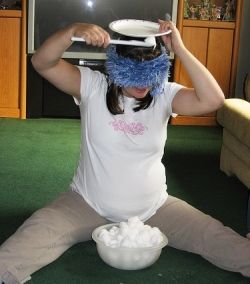 The image says it all. To play this game you just need a bowl full of cotton balls, a spoon and a plate. Yeah, you would also need a soft cloth to blindfold the kitty members.
This is a one minute party game and the players will get the time limit of one minute to complete the task. You can play it as an individual game or also as a team game. If you have divided the kitty party members into teams you can call a member from each team to play this game or else call each member of kitty and let them play the game.
How To Play Blindfold Shift
Call the members one by one in  the playing area and blindfold them with a soft cloth. Give them the bowl full of cotton balls, a spoon and a plate. They just have to keep the plate over their head and shift the cotton balls from the bowl to the plate. This is a very simple kitty party game and thus suits all age groups. You can play this game with kids in children's birthday party or with middle aged ladies in your ladies kitty party. You can also call 4-5 members to play this game simultaneously if you are in short of time.
Do let me know if you want to know more about this game or any other kitty party games with cotton balls.