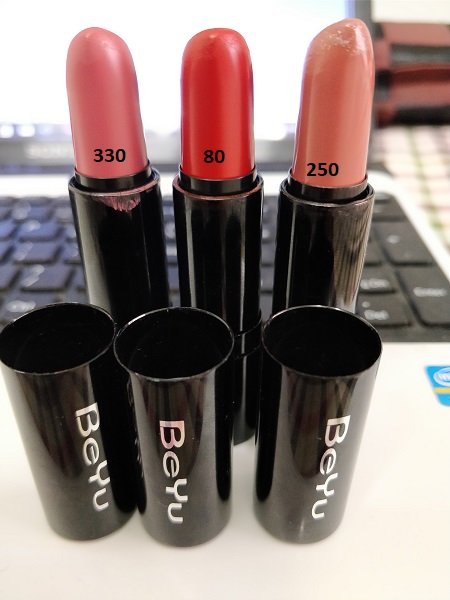 BeYu Lipsticks Review. I love lipsticks. Take away all my cosmetic products and just leave me with the lipsticks and my eyeliner and I am sorted. Here I am introducing the BeYu lipsticks, my new love. BeYu is a German brand which has come with some fantastic range of makeup products.
So, being a blogger I recently got the 4 shades of BeYu lipsticks which include red, pink, nude brown and a light pink shade. Read it on, to see how these new lipsticks colored my lips, how long they stayed and how I am loving them.
Packaging of BeYu Lipsticks
These lovely lipsticks come in a very sturdy and great packaging that your lipstick won't even get a scratch if you drop them accidentally, which happens a lot to me. The plain black packaging is made of very good quality and looks classy absolutely.
The only drawback here is that it is the whole plastic body and you cannot see the shade from outside and thus if you have many BeYu lipsticks in your chest, you have to take them out individually and open them all to check the shade.
Pigmentation of BeYu lipsticks
In my media kit I got-
BeYu Pure Color Stay Lipstick 250
BeYu Pure Color Stay Lipstick 330
BeYu Pure Color Stay Lipstick 80
All of these lipsticks are wonderfully pigmented and are really soft and smooth to apply. Though these are matte lipsticks but you won't feel any kind of dryness on your lips unlike the other matte lipsticks. The nude shades are actually nude and the pigmented shades are wonderfully pigmented. Check out the swatches on my hand as well as on my lips to get the idea.
These lipsticks are made of natural waxes and thus are very smooth to apply. The color just glides on your lips and gives a non-creasy look. You don't really need the bold makeup to put on these lipsticks, just a well put kohl will go fantastically with these lipsticks.
BeYu Lipsticks Staying Power
So, these lipsticks are named as stay lipsticks which stands true to some extent. Yes, this lipstick stays for good 3 hours but if you are out for more than 3 hours, you might need a touch-up. The nude lipsticks are obviously less pigmented and thus stay a little lesser.
Availability
The BeYu lipsticks are available in different shades including the nude ones, lighter ones and the dark hued ones. They have something for almost every skin tone. They are available in a few online stores like Flipkart and Purplle.com, and if you want to buy them offline, you can try the Lifestyle Stores, Central and other top beauty store.
The BeYu cosmetics come in the elite range thus, you won't really find them in the small local cosmetic stores.
BeYu Lipstick Price
The lipstick is available for Rs 1150.
Verdict
BeYu lipsticks are slightly higher on price but the quality they are providing is worth the price. I wish they were a bit cheaper and affordable. Regarding their pigmentation and staying power I loved them thoroughly and the best thing I liked about the BeYu lipsticks is the application. They are super smooth and creamy to apply and give a smooth and soft looks to your lips.