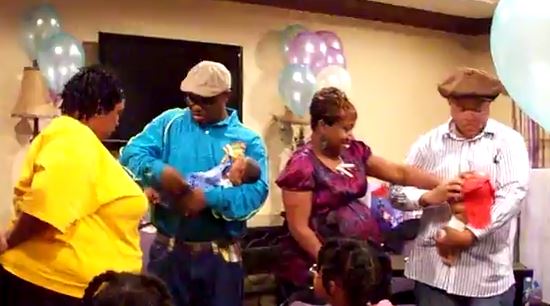 Unique Baby shower games . This baby shower game is for couples and so you need to call all the couples in your baby shower to play this game. This is basically a very simple game as the couple have to dress up a toy baby together. Wait !!
It is not that simple !
Unique Baby Shower Games For Couples
The only rule in this baby shower game is that the couple can use only one hand to dress up the baby with the romper suits. You might need a few toy babies for this games and equal number of baby romper suits.
Now how the game goes is that the husband will hold the baby with one hand and wife will fold one of her hands back. Both husband and wife can use only one hand to put the romper suit on to the baby. The couple who does this in the minimum time will be the winner of this baby shower game. This is actually one of the most funny and unique baby shower games and it is a real fun to watch the couple struggling to dress up the baby with one hand each. This game depends upon the timing and tuning of the couple and a couple can win this game only if they co-operate each other well.
Try this Unique baby shower game in your baby shower party and have fun.