Tambola Games . Here is a special tambola game for navratri theme kitty party. I have tried to design this tambola game for your navratri kitty party with a hope that you will all like it. Please let me know if it helps.
Here in this navratri theme tambola you have the dividends with the 9 names of Ma Durga. You can write two numbers on each bell and 3 numbers on  Ma Durga's picture in the center. The members have to call out the nine names of Ma Durga when they get a dividend. You can name the full house as 'Shubh Navratri'.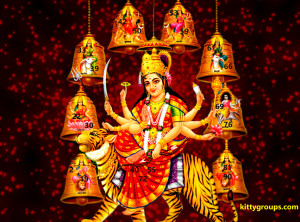 Other dividends will be –
Ma Shailputri
Ma Brahamcharini
Ma  Chandraghanta
Ma Kushmanda
Ma Skand Mata
Ma Kaalratri
Ma Mahaguari
Ma Siddhidatri
Ma Durga (center image)
I am attaching the plain game sheet without numbers here. You can download the tambola game sheet and write the numbers manually. Unlike the normal tambola tickets, this special theme tambola will have 21 numbers.
Feel free to leave a comment in the comment box below if you have any doubt in the game.
Click on the Download Button below and get the game sheet downloaded in your computer system.
[dl url="https://kittygroups.com/wp-content/uploads/2013/09/navratri-theme-tambola-sheet.jpg" title="Download Game Sheet" desc="" type="" align="Game Sheet"]