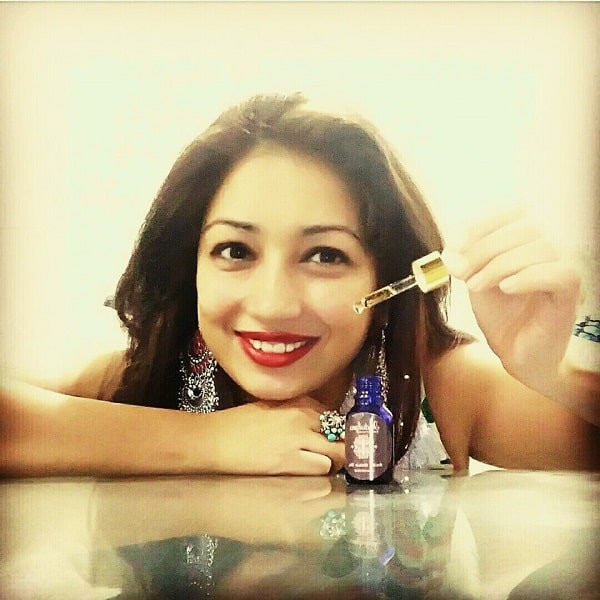 A new tiny and beautiful blue colored bottle with Rose Gold Oil is being seen everywhere on Instagram these days. Well, this new facial oil is not that popular on the internet but yes, this Rose Gold Oil is my new favorite now. Check out the genuine Rose Gold Oil Review and decide yourself.
Indulgeo EssentialsRose Gold Oil Review Rose Gold Oil Review 
Ingredients and Benefits of Indulgeo Rose Gold Oil
Made by Indulgeo Essentials this Rose Gold Oil is purely organic and comes with a sweet herbal scent. While the most important ingredient in this facial oil is LOVE, the other magical ingredients in this facial oil are-
24 K karat gold flakes
Pumpkin seed oil
Rosehip seed oil
Vitamin E oil
Orange peel oil
Bergamot oil
Lemongrass Oil
The rosehip oil and Vitamin E oil, being the major ingredients of this oil gives a wonderful anti-aging effect. It reduces the appearance of fine lines and wrinkles considerably. Pumpkin Oil is rich in antioxidants and helps to retain the moisture of our skin thereby keeping our skin hydrated. Orange Peel oil, the other important ingredient in this Rose Gold Oil cures blackheads, acne, dry skin, blemishes and dead skin cells. Lemongrass oil is known for its healing properties and cleansing effect. And then there is 24 Karat gold in this wonder oil which is the base of this magical rose gold oil- Gold flakes have immense benefits for your skin which include- skin lightening, reduced spots and blemishes, smooth, glowing and radiant skin. 
I have been using this facial oil for last 15 days and am totally in love with it. It is incredibly light and takes no time to penetrate it my skin. The sweet herbal scent was the first thing which impressed me, followed by the stunning gold flakes twirling in the oil drop. Just 3 drops of oil were enough to cover my entire face and gave me an instant fresh feel on my skin. The best part about this rose gold oil is that it is not greasy and absorbs into the skin instantly leaving a radiant and smooth skin behind.
If explained scientifically, the perfect blend of these wonderful ingredients restores natural sebum production in your skin which actually diminishes as you grow older. Sebum is a natural waxy/oily matter of our skin which keeps it lubricated. The anti-oxidants rich ingredients of the Rose Gold Oil overall protects my skin from aging issues like fine lines, blemishes, spots, wrinkles etc.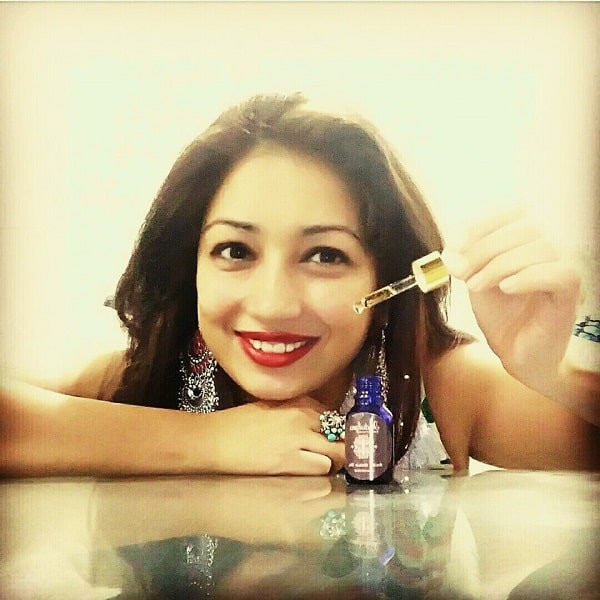 How To Use Indulgeo Essentials Rose Gold Oil
While this is basically known as a daily moisturizing oil but I found many other uses of this wonderful oil.
It can be used as a pre-makeup base on your face and neck. It helps your makeup stay longer.
Apply a single drop of oil on your lips before you wear the matte lipstick, it will give your lips a glossy look and make it stay longer.
Tap 2 drops of rose gold oil on face and it helps you blending your foundation perfectly. I have seen people using it on the makeup sponge but I won't recommend it as the sponge soaks in a lot.
If your gel eyeliner is dried, adding a single drop of oil will make it as good as a new gel liner.
In a nutshell, the new Indulgeo Essentials Rose Gold Oil is one stop solution for all my skin aging issues. I never had acne so can't say much about it but the company claims that it can cure acne too. What else one can ask for. It is a must have face oil in your vanity kit, highly recommended. You can order your own bottle from their Instagram Handle.
Disclaimer: Stop using the oil if you feel any kind of irritation or rashes in first use.