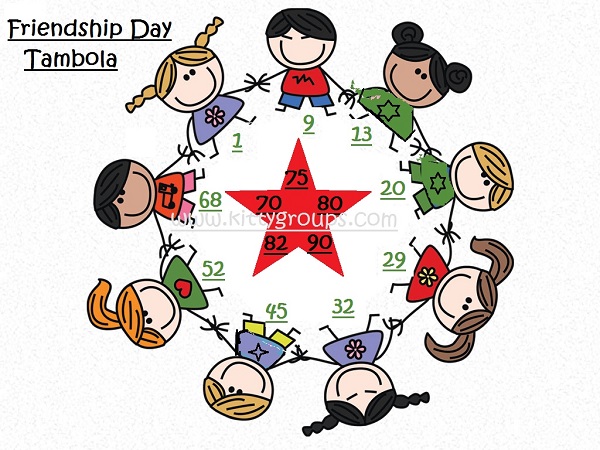 2nd August, first Sunday of August is the friendship day and if you are planning to organize a friendship day theme kitty party, here is the special Friendship Day Tambola.
Friendship Day Tambola
Things Required
How To Play
Get the ticket printouts according to the number of members in your kitty party
Write one number on each child and 5 numbers in the star in between.
Play the game with normal tambola numbers and board.
Friendship day tambola dividends
Green friends- when numbers on green children are cut
Blue friends- when numbers on blue children are cut
Red friends- when numbers on red children are cut
Girl friends- when all numbers on girls are cut
Boy friends- when all numbers on boys are cut
Start Friends- when all numbers in the star are cut
Happy Friendship Day- Full House
This is a simple yet nice tambola game best suitable for your Friendship Day Kitty Party. Do let me know if you have any doubts or need any help.