March has started, and Easter is approaching. If you have a kitty party at your place this month, you can arrange it is an Easter Themed Kitty Party. Because it is an Easter Themed Party, you need to make everything according to the theme, whether it is a dress code or food or the Easter party games there.
When you set an Easter theme for your kitty party . You have to decorate your kitty party hall with the Easter symbols, such as Bunnies, carrots, eggs, colorful ribbons, greeting cards, and shimmer. The room must be totally colorful.
The Easter party games I am mentioning here for the Easter themed party are the team games as I always find the team games more of fun and laughter. You better divide your kitty members to teams to enjoy the Easter themed party to its fullest.
Easter party games #1 – DECORATING THE EASTER EGG
Give both the teams some eggs and colors, brush etc.and set the timer to 2 minutes. Both the teams have to decorate the eggs and the teams who decorate more eggs in the given time will be the winner of the first round. The design must be complete and attractive.
Easter party games #2 – Egg Hunt
Hide many boiled and raw eggs (decorated )all over the Easter party hall, set the stop watch on two minutes and call one member from each team and tell them to find the eggs. Give the raw egg 2 points and boiled egg 4 points. After the given time count the eggs and the respective points. The team member with maximum points will win this game.
Easter party games #3 – Catch the eggs
Take some boiled eggs and an Easter basket. Call two members from each team. One member will throw the boiled eggs, backwards and the other member will catch them in the Easter basket .The team who catch maximum eggs will be the winner of this game.
Easter party games #4 – Word Search
Give both the teams Easter puzzles and add some of the Easter words in it. The teams have to find the Easter words from it. The team who finds maximum words from the puzzle in one minute will be the winner of this game. The words could be, eggs, bunny, decorations, celebrations, fun, party , gifts, and so on.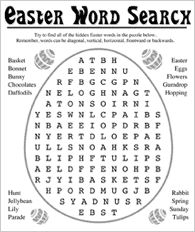 So this was my idea on Easter Themed Party with Funny Easter Party Games at your place. I will keep on adding some more of games here so keep visiting.
Do not forget to leave your comment below in the  comment box, your comments are valuable for me.